Pearl; a name synonmous with quality drums for the past 30 to 40 years. Lesser known is the acoustic guitars they offered in the early 70s. Like Tama, the acoustic offerings were not available very long, perhaps a span of 3 years, before they focused all efforts on the percussive side of the business. Unlike Tama, these didn't have any exposure to Western markets and remained in the domestic market only. Whilst Tama used a select group of Ibanez luthiers to make their exceptional guitars, Pearl had their acoustic guitars constructed by Hayashi Gaki.
Hayashi Gaki was another guitar factory in the Matsumoko region manufacturing a number of different brands, including Nashville and Mountain in the early 70s. At the time of manufacture of Pearl acoustics, a Mr Mamose worked there as a design engineer - a man of repute in the Japanese acoustic guitar market. From this early start designing Pearl acoustics, he went on to produce Rider guitars for a couple of years (1975-1976) before founding the Headway guitar line in 1977, which continues today. These are both highly sought-after brands with models demanding high prices in their native Japan. Yet again, these both remain quite unknown to the West; a common theme of this blog...
The range of Pearl acoustics offered was quite vast, from entry level 15,000 Yen models, up to 200,000 Yen top of the range models - a huge amount considering a Martin D45 retailed at 245,000Y at the time. Despite a large range, Pearl acoustic guitars are quite rare given their short selling period. Currently i have 4 of them, with the first to cover being the PF-770, which retailed at 77,000 Yen back in 1971. The price puts it up as about the second or third most expensive model i own going by the original retail price. This PF is a standard dreadnought body, with a solid spruce top with triple cream binding. The sides and back are Indian rosewood, with an intricate mosaic purfling down the centre of the back. The bridge is a light rosewood with a bone saddle, and the pickguard is a funny thing - cushioned vinyl with the original
P
logo on it. Quite amazing that it's not worn off. The neck is a 3-piece mahogany with a chunky volute neck joint and a bound rosewood fretboard, and a Martin-style headstalk. The headstalk has a mother-of-pearl inlay of the Pearl logo, a bone nut, and what i think are nickle Japanese-made old-style button tuners that hold tuning very solidly. It also has a chunky black/white truss rod cover with the original Pearl
P
logo on it.
Tonally, it rings out; loud and full, well balanced, and lasts on and on. So lively, it feels like the whole body ripples under a hard strum. I have Newtone tru-bronze lights on it and find they suit this guitar really well. The harmonics on it are quite astounding. Honestly, I wasn't quite expecting this richness of tone when i bought it, i was primarily taken with the idea of it being another Drum company making an old acoustic (read anything about Tama acoustics and you will realise why such enthusiasm for trying another drum companies efforts at acoustics) and the fact it had so much of its original style and quirks.
Here are some photos: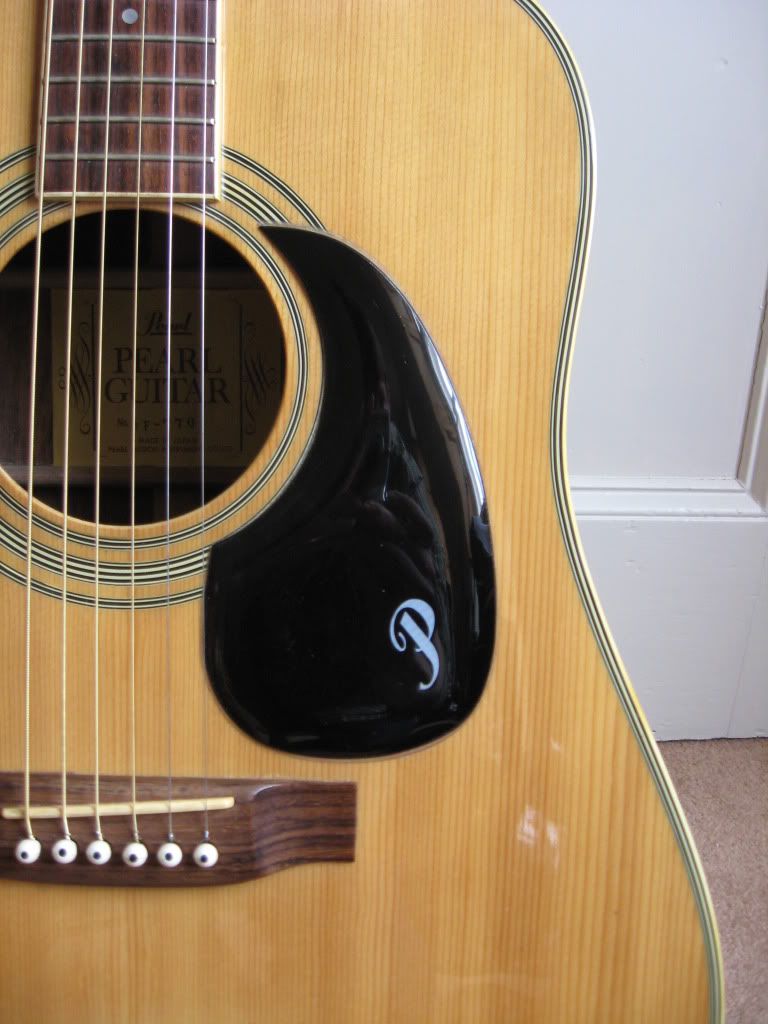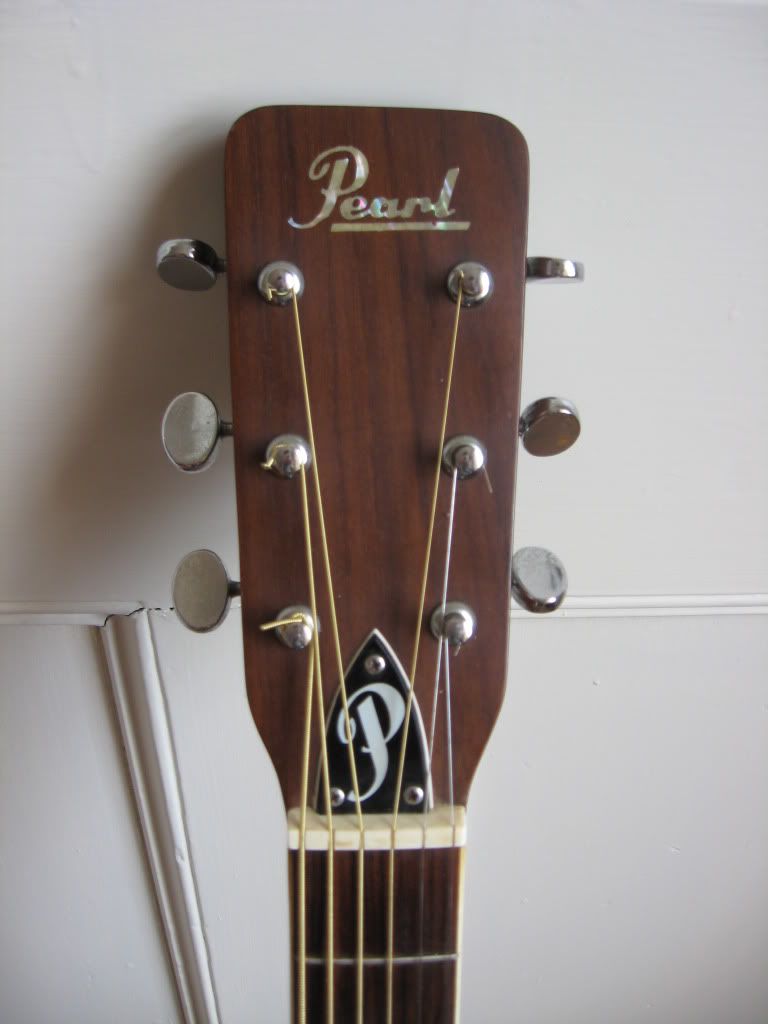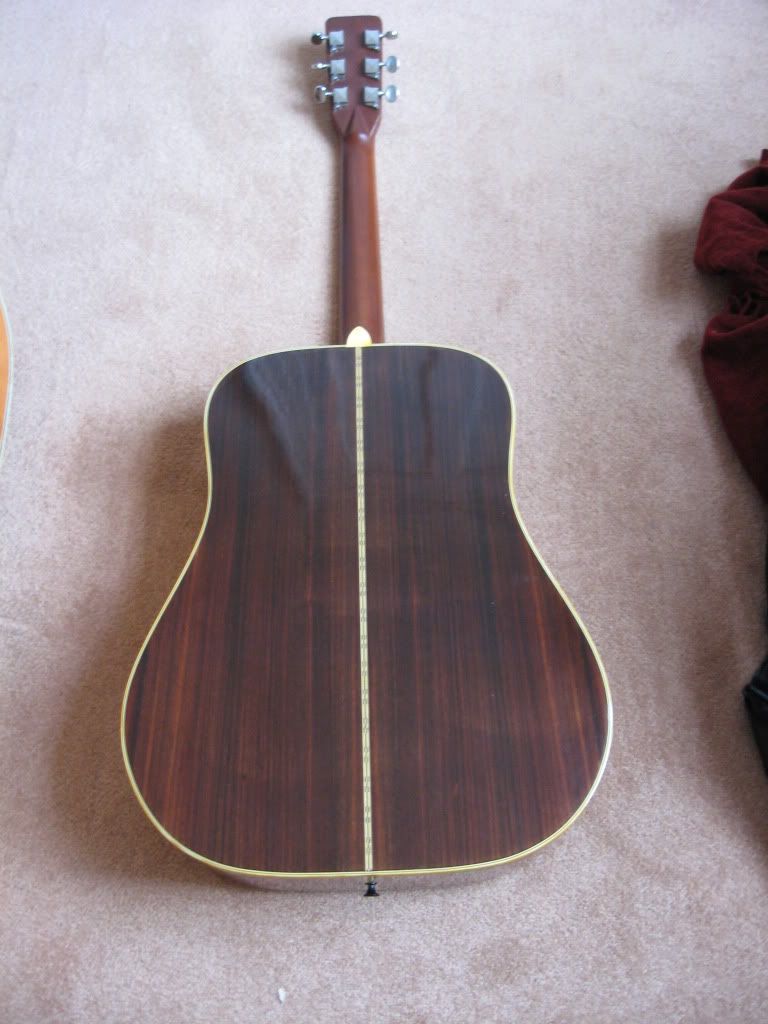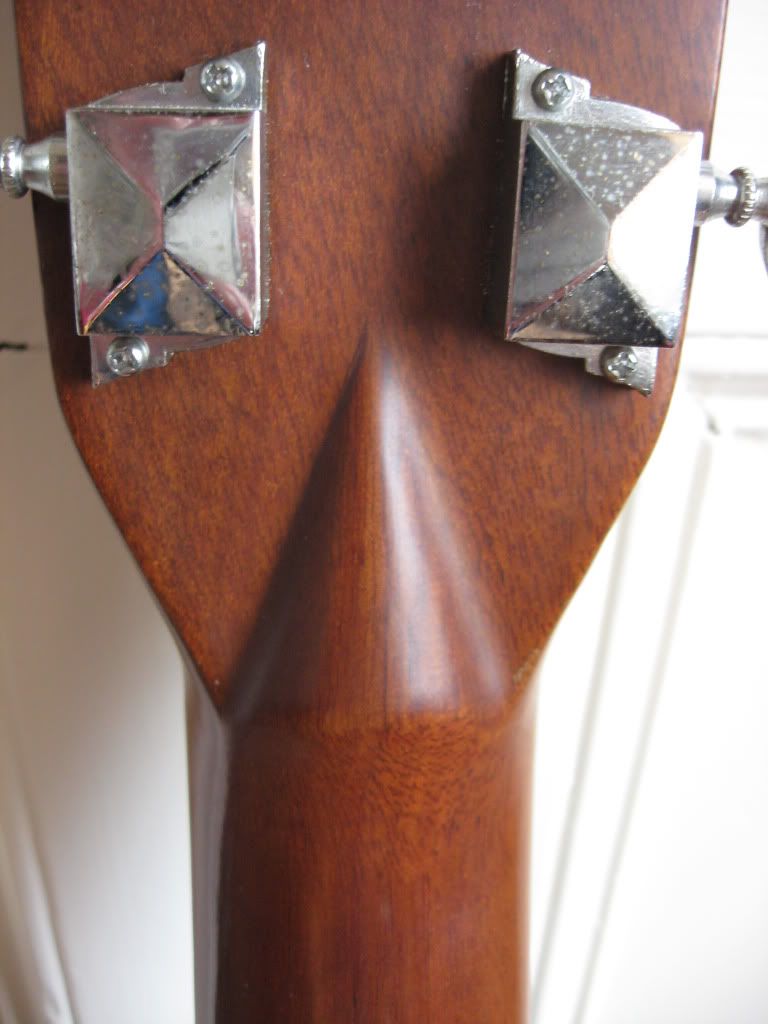 As ever, for additional photos go
here