K Country was the main domestic guitar brand name for Kasuga Musical Instruments Mfg Co Ltd, made from the late 1960s to the late 1970s. Kasuga itself is one of the oldest stringed instrument manufacturers in Japan, started in 1935 by Miki Bukichi in Nagoya Japan. They started in making violins, banjos, mandolins, and ukuleles before starting the range of guitars in the 1960s. Along with acoustic guitars, they also made electric guitars, occasionally branded as Kasuga but more often made for another company, such as Tokai, and early Japanese Fender models. In regards to their acoustics, they made the Madeira acoustic guitars for Guild in the 1970s, which does relate heavily to this model featured. Kasuga closed in the mid 1990s.
The D380 is a special edition model based on the Guild D50, a true american classic guitar, and a real king in bluegrass music. Due to Kasuga making the Madeira Guild models, this lends itself hugely to the domestic K Country models being as accurate as possible to the original Guilds. With already owning a Guild GAD-40, the appeal to owning one of these models was understandable, particularly given all the bluegrass features present on it. It has a solid spruce top, with andes rosewood back and sides, with a wood mosaic inlay as the back central strip, A tortoiseshell Guild shape pickguard stretches round the soundhole, and the rosewood Guild styled bridge features a bone saddle and curved bridge pin hole positions; all true to the original. The neck is three piece mahogany with a bound rosewood fretboard. This is a beauty, with the handcrafted position marker inlays, each with a unique bluegrass style design. Again this feature can be seen on some old Guild D40s out of Rhode Island. I think it looks fantastic, and more than a few folk have commented on how much they like them. The headstalk is typical Guild shaped, with some quite unique tuners - whether these are Gotoh or Kasuga designed models i don't know, but they work well and look the part.
Sound wise; well it sounds like a Guild. In that completely distinct way they do, this is a bluegrass delight with some medium phosphor bronze strings on, real clarity and depth to the tone. Flatpicking is really its thing.
Here are some photos to enjoy: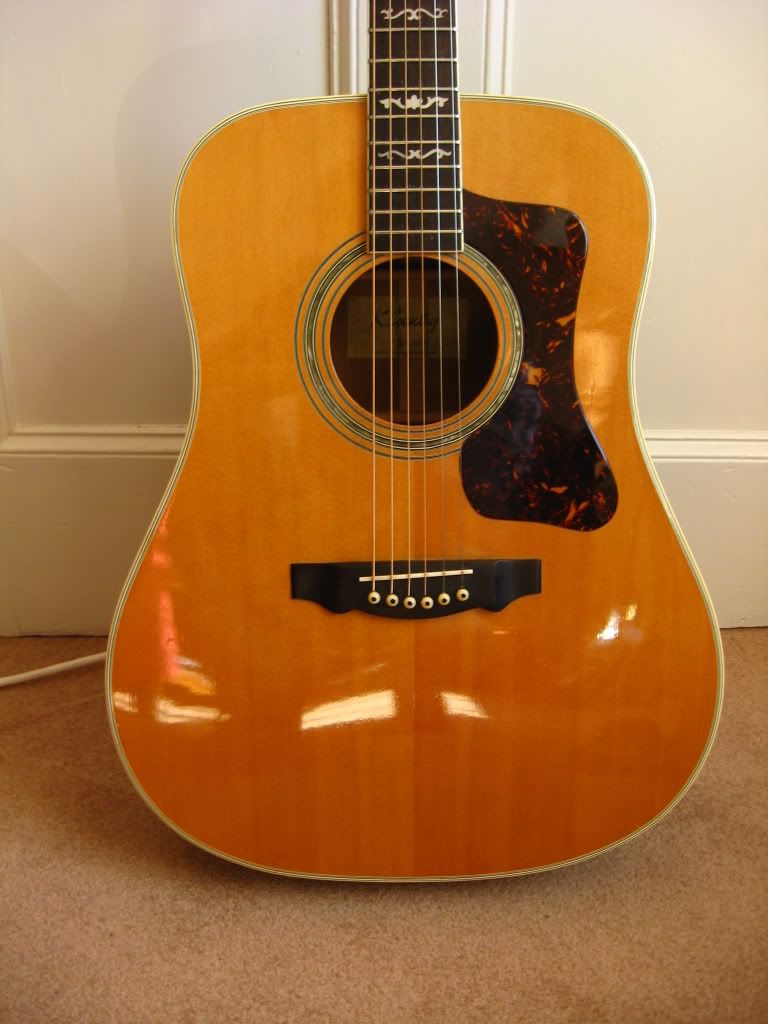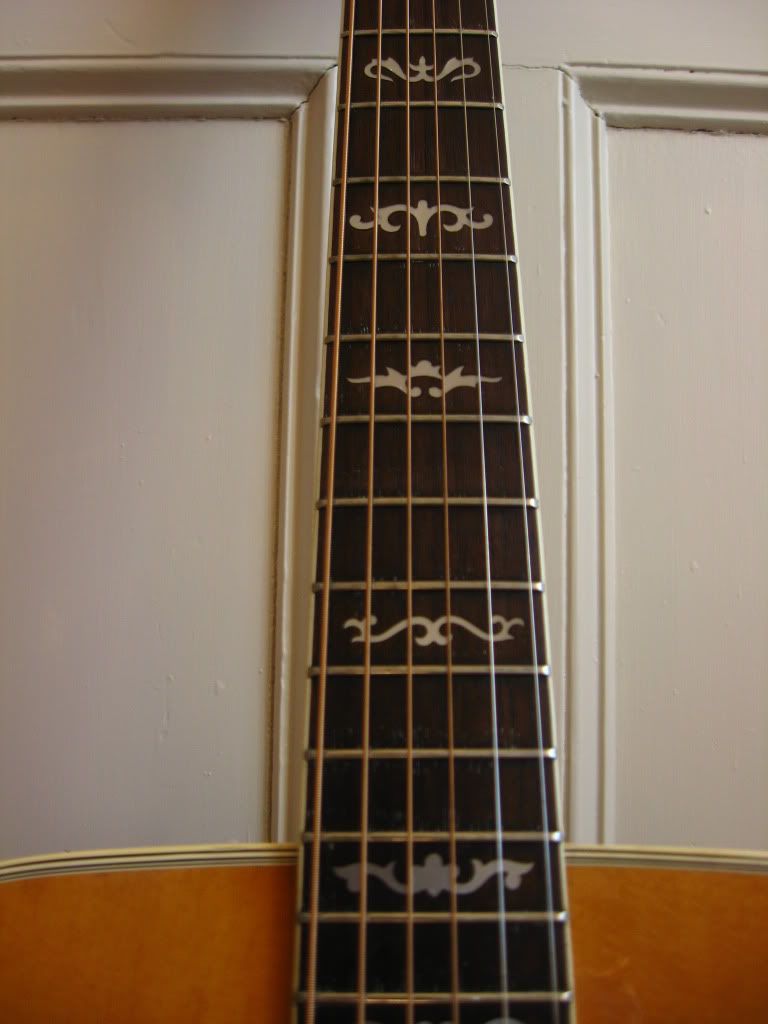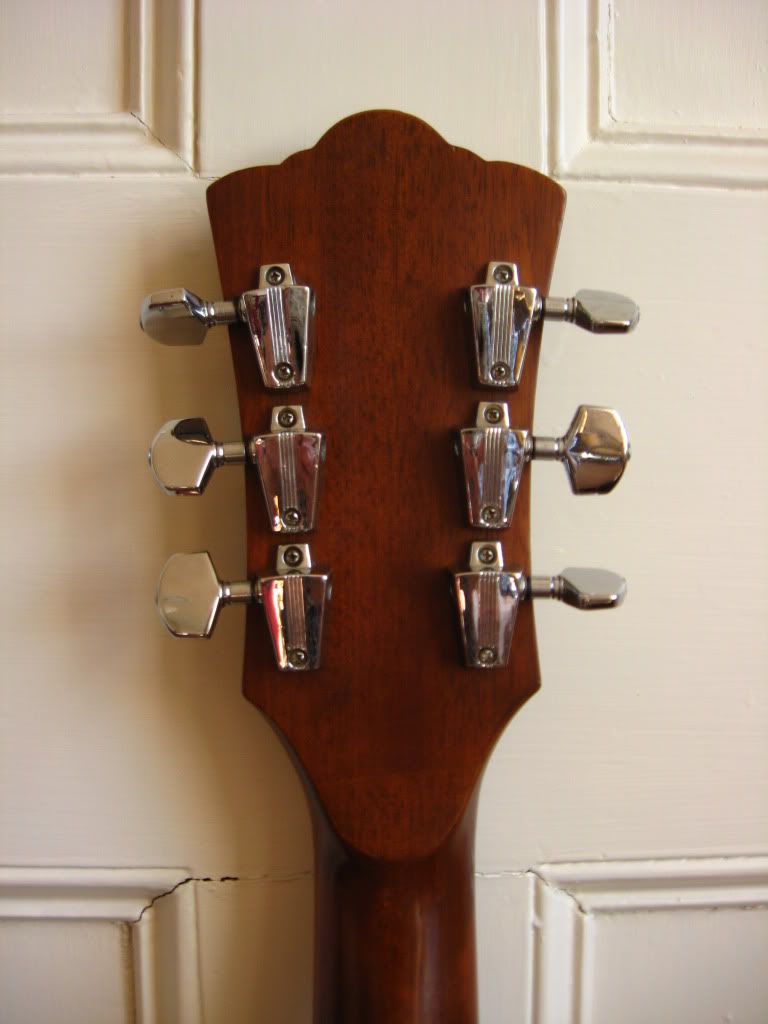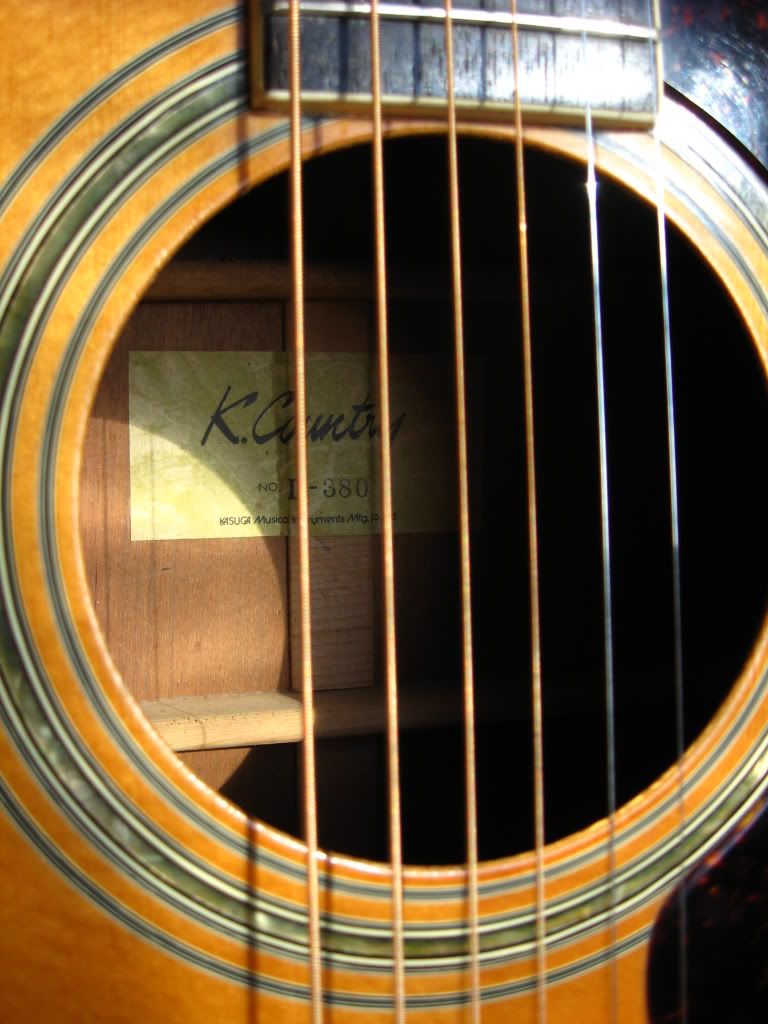 As ever, you can find the rest of the photos
here
.