Morris were one of the largest manufacturers of high-end acoustic instruments from the 70's through to the 90's in Japan, building a reputation for high quality craftmanship and use of top grade woods. Any wood they used for the soundboard was dried in their warehouse for 7 years before being used in construction.
The company was founded on an inspired visit to the Martin guitar plant in the late 60's, where on return to Japan they set up to produce quality copies of various models of Martin guitars. Early guitars made some success as entry level imports to the West, using primarily high quality plywood construction. However, as the 70's progressed, so too the skill and accuracy of the luthiers. Morris turned more to their own home market, where the guitar market in the 70's in Japan was hugely competitive, with more than 20 different factories making excellent copies of popular American acoustic models; the success of Morris to become the largest next to Yamaha is testament to their quailty and value for money. Nowadays, Morris still produce guitars, primarily focussed on smaller bodied, finger-styled guitars that retail for +£1000. A good google search will offer up more info.
This model, the MD520, was introduced in the late 70's with a retail price of Y35,000. My one is from 1984. The 2nd top model of the MD range, this features a really lovely solid spruce top, one of the best in my collection, and coral rosewood back and sides, with a simple mosaic inlay down the centre of the back. The body is bound with ivory and simple abalone pufling - nothing too flashy but with a high attention to detail. The neck is a 3-piece mahogony, bound again with ivory and simple position dot markers. The headstock has gold finished Morris tuners, and a classy Morris vertical headstock logo inlayed abalone, inspired by Martin guitars in the 70's. This vertical logo style was used by a number of manufacturers for their higher-end models. It is a lovely looking guitar in nearly new condition - the owner before me must of hardly played it, with the ivory binding hardly yellowed by daylight making me think it lived in its case most of its 26 years. The spruce top has dried out to produce a truely lovely warm tone, loads of woody character and volume, with a ringing resonance.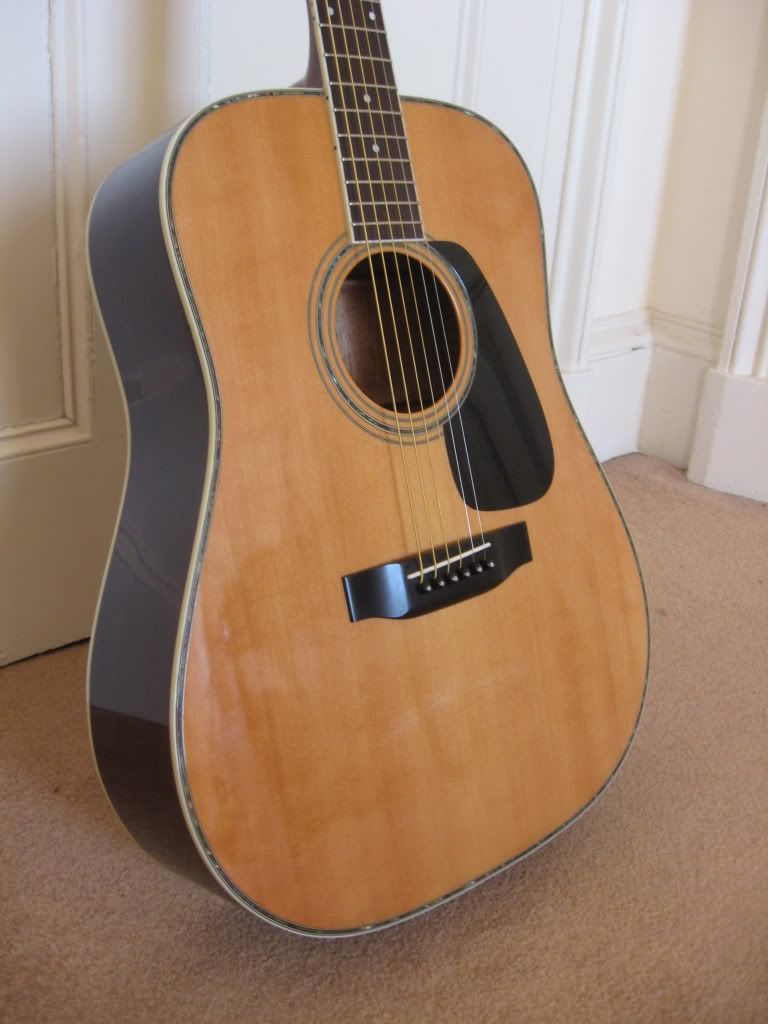 For more images, click
here
As much as i love this Morris, my collection is nearing 35 guitars, so i need to sell a few along the way. For those viewers interested in buying it, please visit the listing
here
or send me a message.