Next of the Aria's to talk about is the G300. This is designed on the Gallagher guitar that american songbook folk legend Doc Watson used. The story of that guitar is quite a charming one;
1968, Doc Watson was picking under a tree at a music festival with Merle Watson. J.W. Gallagher and son, Don walked over and offered for Doc to play the guitar that was in the case they were carrying. Doc did, liked the sound and when he went to hand it back, they struck a deal. "Keep it, for as long as you play it."

That guitar became Ol Hoss and it was the first Gallagher guitar that year. The last that year was bought by the late, great, Grandpa Jones.

Today, the Gallagher family keeps doing what they do like nobody else…they make guitars that ring like a bell.

J.W. Gallagher first began woodworking as a cabinetmaker in Wartrace, Tennessee in 1939. He made fine quality furniture. However, by the 1960's, J.W. Gallagher was making quality guitars exclusively..
I believe he has played one ever since.
Gallagher guitars have never aimed to be a huge manufacturer and has stayed humble and professional all its days. The wave headstock and the distinct pickguard really gives them their own image, which i think is hard; to craft a unique and recognisable design. Being so small, it is quite unusual to find them as a copied design in the Japanese market, but perhaps Doc was popular there, or perhaps they just looked at all the North American made guitars and wanted to replicate them. Whilst it never grew to be a hugely popular style in comparison to the Martin and Gibson copies, quite a few manufacturers used the style for a few models, and used different bracing designs for them.
The Aria is a really well preserved guitar for its age (made around 1975 as far as catalogs guide me), with a lot of special features that set it off very nicely. It is a dreadnought body shape with herringbone purfling around the soundhole and body binding, and has that distinct pickguard in tortoise shell. It features a solid spruce top, which often occurred around the 30,000 Yen price mark of the time, which was this guitars release price of the time. Over age this has dried out, which along with being quite a thin sound board, has developed into a fine round sound that lingers; quite bright and treble-some, which works well in folk playing and as a harmonising guitar up the fret board, where it sings clear of the chord strumming of the other. Having never played an original Gallagher guitar, i don't know how close the sound is to it's idol, but it is pleasingly distinct from the others Martin and Gibson styled guitars i have. The sides and back are indian rosewood, with cream binding, and a central intricate mosaic-design purfling between the two pieces that make the back. The neck is on the chunky side, with a strong C profile, and is a 3-piece, with a volute neck joint. The fingerboard is in rosewood with pearloid snowflake position markers, and is again set with cream binding that has aged a vintage amber. The headstock features that distinct wave design, faced with a jacaranda (Brazilian rosewood) veneer. Aria have altered the ornate G headstock logo into an A. The tuners are quite special and unique, with a gotoh style design but with ornate A inlays to match the headstock logo. I assume these are Japanese made, and work excellently. It is all very thorough and detailed; no less than i have come to expect of these Aria guitars, but it is pleasing to have so many of the original features. Interally it is stamped with the model number and
"made in japan"
,and is clean and tidy.
Here are some photos: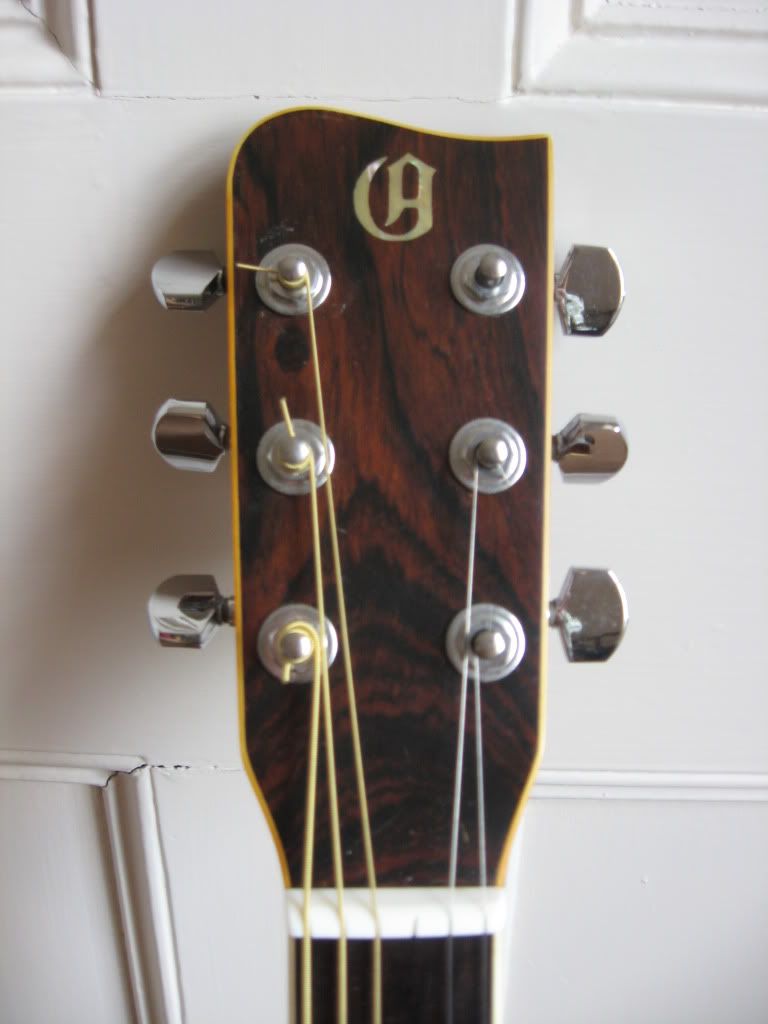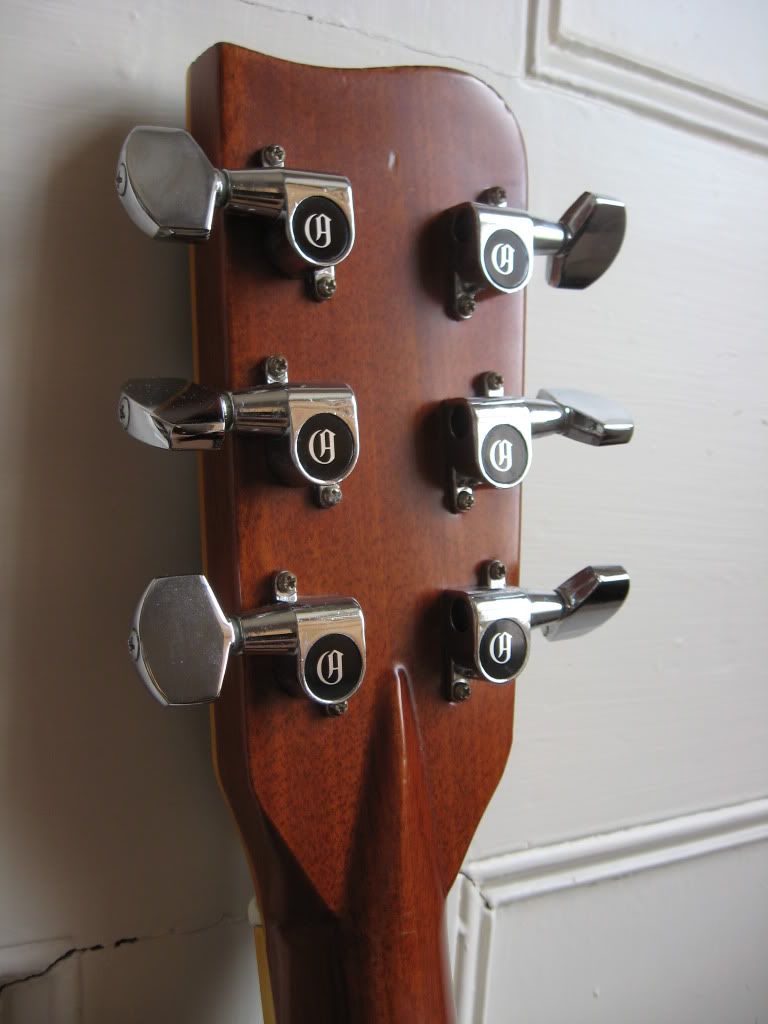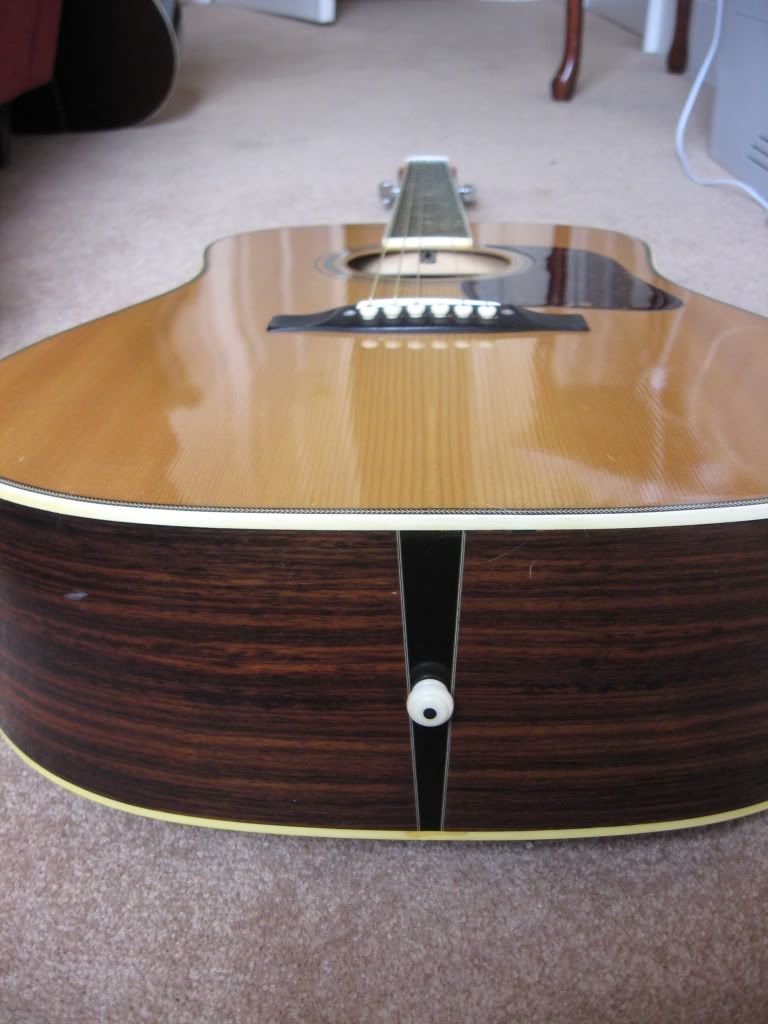 As ever, please fine additional photos
here
Thanks for looking.