Another brand to talk about is Yamaki, a name perhaps more familiar than others written about so far. An excellent retelling of its history comes from an exert from a magazine that a poster on the acoustic guitar forum put up. I will quote from there:
"The complex story of Yamaki guitars is entwined with the histories of a number of other Japanese companies. In the late 1940s, brothers Yasuyuki and Kazuyuki Teradaira started working for Tatsuno Mokko, an instrument-building firm that later split into two different companies, one of which was called Hayashi Gakki. In 1954 Hayashi Gakki was bought out by Zenon, a large music distributor. In 1962 Yasuyuki left Zenon to start an instrument distributor he called Daion, which means "big sound" in Japanese. In 1967 Kazuyuki left Zenon to produce classical guitars under the name Yamaki, an auspicious Japanese word meaning "happy trees on the mountain." By the early 1970s, Kazuyuki expanded the Yamaki line to include a large number of steel-string guitars, many of which were based on C.F. Martin and Co.'s designs and were distributed exclusively through Daion. Along with Yamaki guitars, Daion sold instruments from Shinano, Mitsura Tamura, Chaki, and Hamox, some of which were built by Yamaki at various times, and Harptone guitars, which they imported from the US.

Sometime in the late 1960s, Daion began exporting Yamaki guitars to America, where they were well received. By the early 1980s, however, Daion felt that the Yamaki Martin-style guitars were getting lost among similar instruments from other Japanese builders like Takamine, Yasuma, and C.F. Mountain, so they redesigned the entire acoustic line and started building acoustic-electrics and solid-body electrics as well as oddities like double-neck acoustics. They dropped the Yamaki name and rebranded their instruments as Daion guitars. Daion began an extensive advertising campaign to introduce the new line around 1982, but this was a time when musicians were more interested in the new MIDI-equipped synthesizers than in guitars. In 1984 Daion stopped importing guitars to America and soon went out of business. Yamaki, on the other hand, survived the downturn of the 1980s and now makes parts for other Japanese guitar companies."
I think that covers it very well. Indeed, Yamaki guitars were sold to the West, though for some reason Canada was the one country to be most exposed to their models. I think their is a strong fanbase for their guitars there due to that. As ever, the top of the range models still seem to be more prominent in native Japan than anywhere else, with prices well above $1000 being the going rate for these.
I have a few Yamaki guitars; the one i am featuring here is one i sold earlier in the year. This 12-string Yamaki YW-50-12 was made in 1981, and originally retailed at 50,000 Yen. It is quite a stunning guitar by any measure, with its fine slotted headstock, central maple inlay, and the beautiful orange/green/cream/black chevron purfling, and then the quality of the tone woods used as well. Yamaki guitars are well reputed for their excellent stock of wood used in their guitars, and this is a great example of an even, tight grained solid spruce top and fine figured rosewood used in the sides and as the outer panels of the three-piece back. The bound rosewood fretboard features some of the nicest positional marker inlays i've seen, namely a rectangle in mother-of-pearl overlayed by a thinner and longer rectangle in mexican shell abalone. Highly skilled stuff, and not too bling on the eye. As you go up the mahogany neck, it is hard not to notice a rosewood veneered slotted headstock, which are exceptionally unusual for a steel-strung guitar. Nothing looks quite so good once you see it, something so vintage about it. Don't get me wrong, it's a bit of a pain in the ass to restring! But once you have, and you strum a lush open chord on this, it's entirely worth it. Sonorous, a classic full 12-string ring sings out. Wonderful stuff.
I do have a second one of these from 1984, but the headstock was poorly padded in transport and arrived to me split at the joint, and sits awaiting repair. I have no doubts it will play as well as this, but wont be in such fine condition.
Here are some photos to enjoy: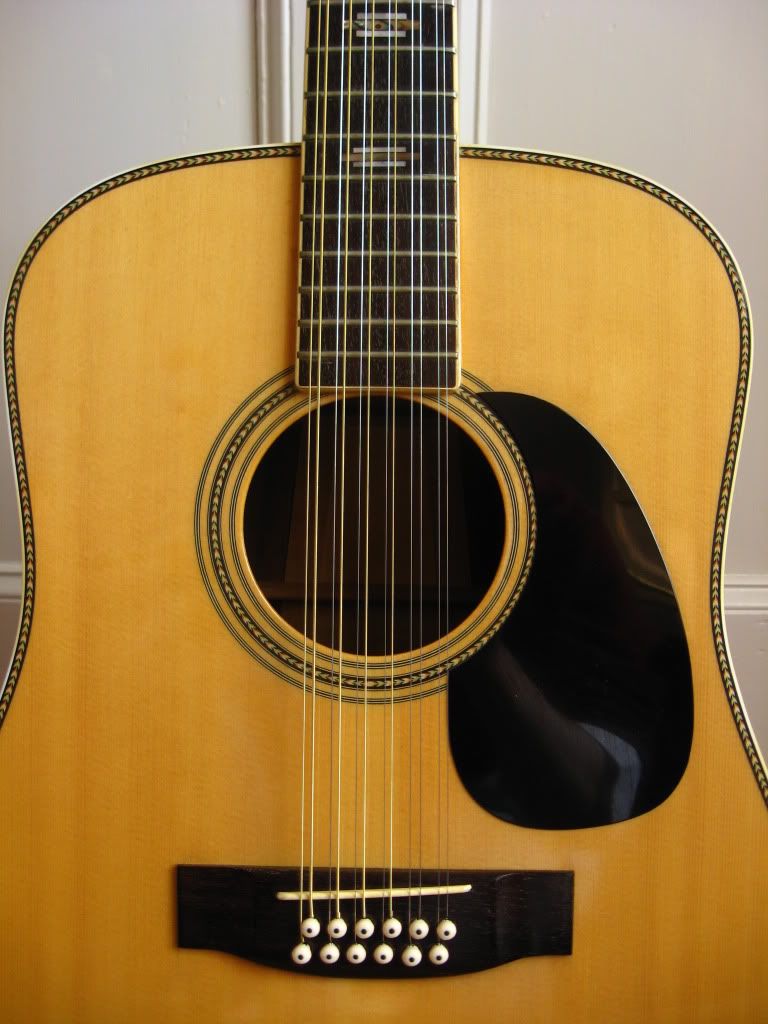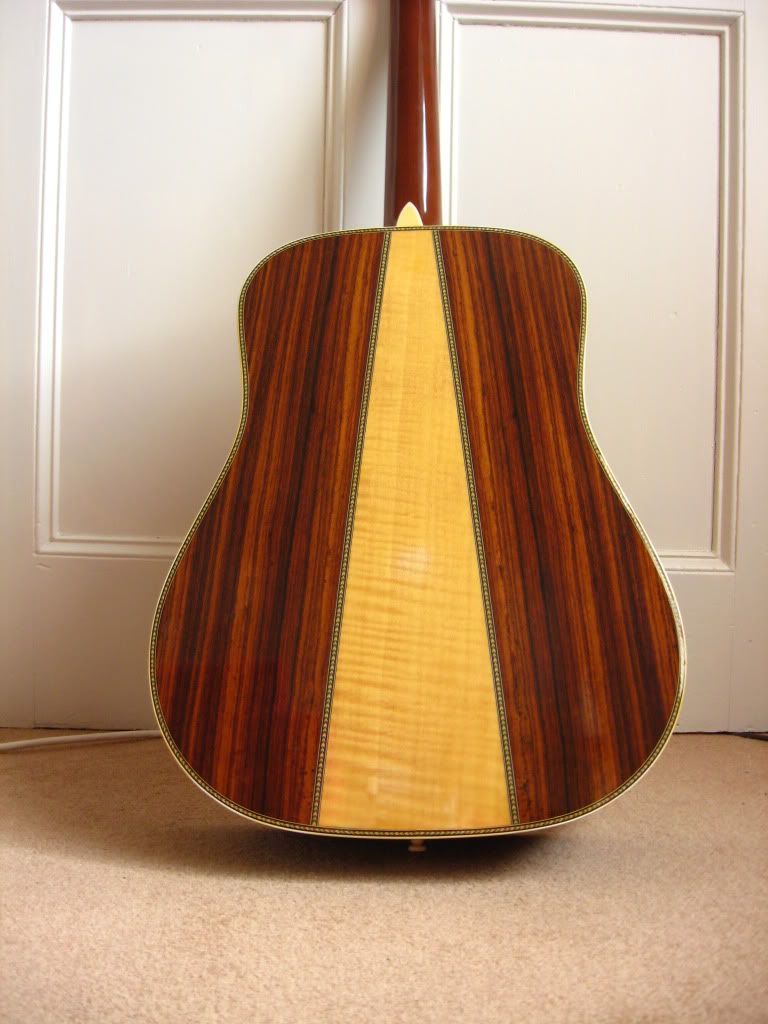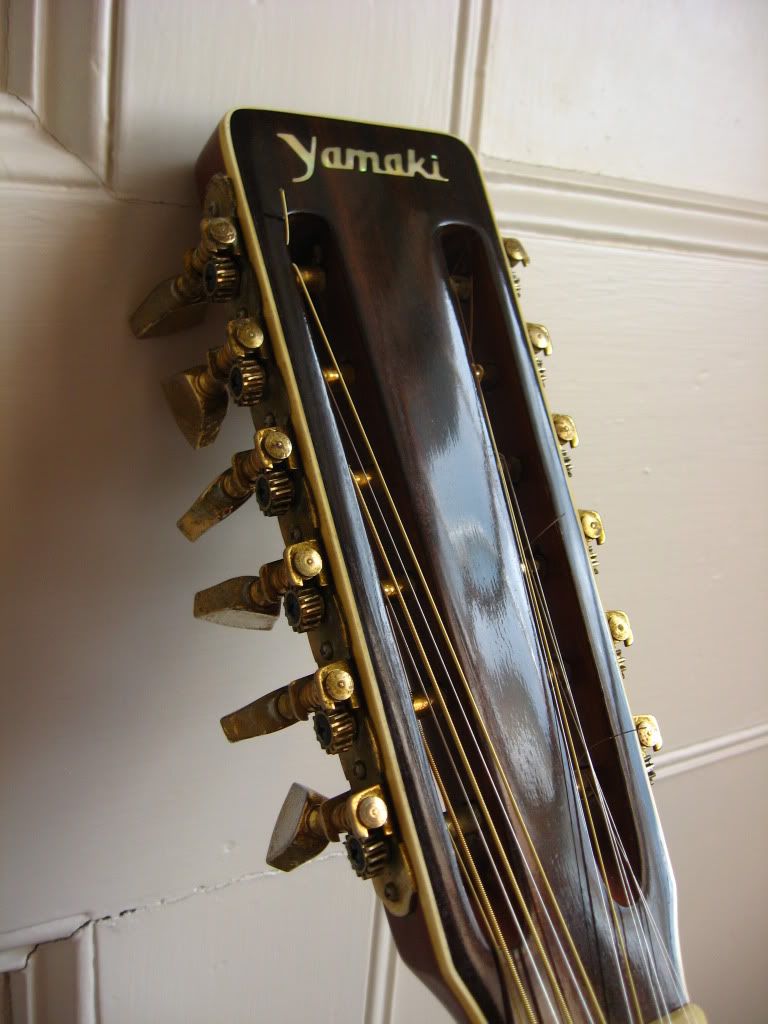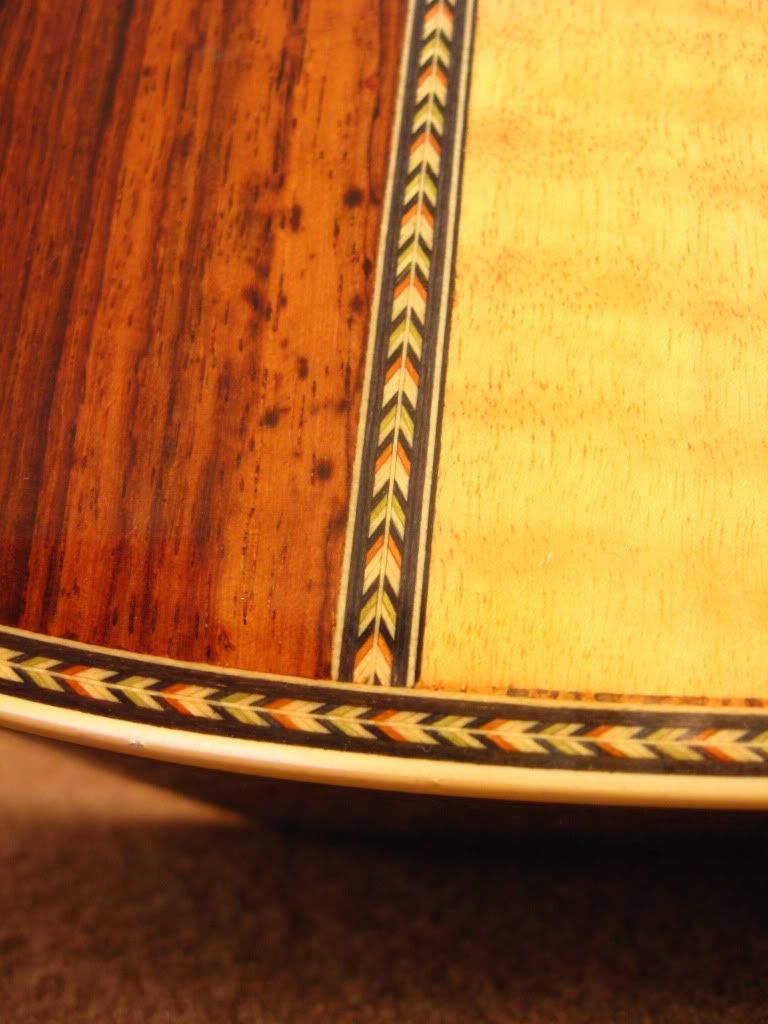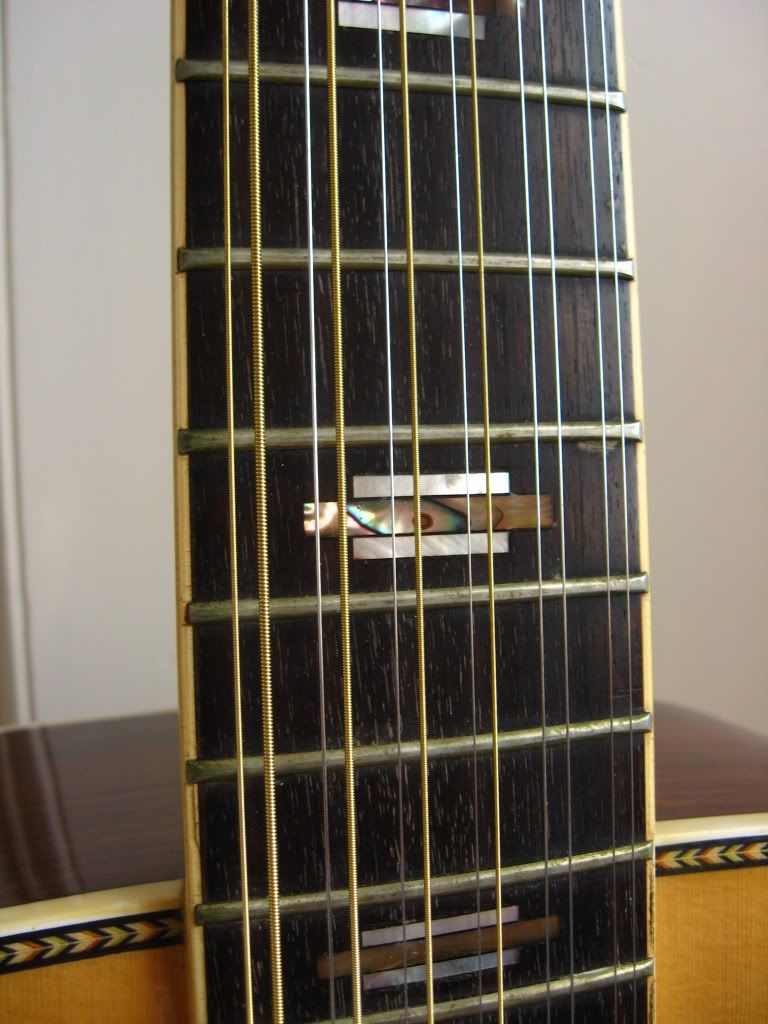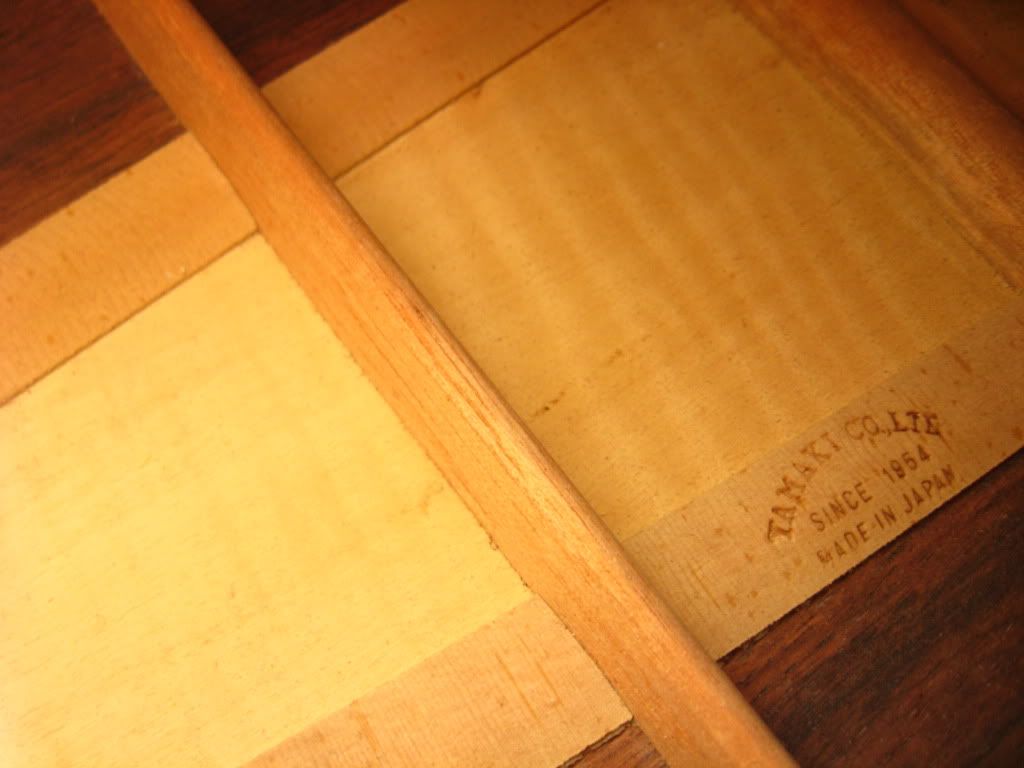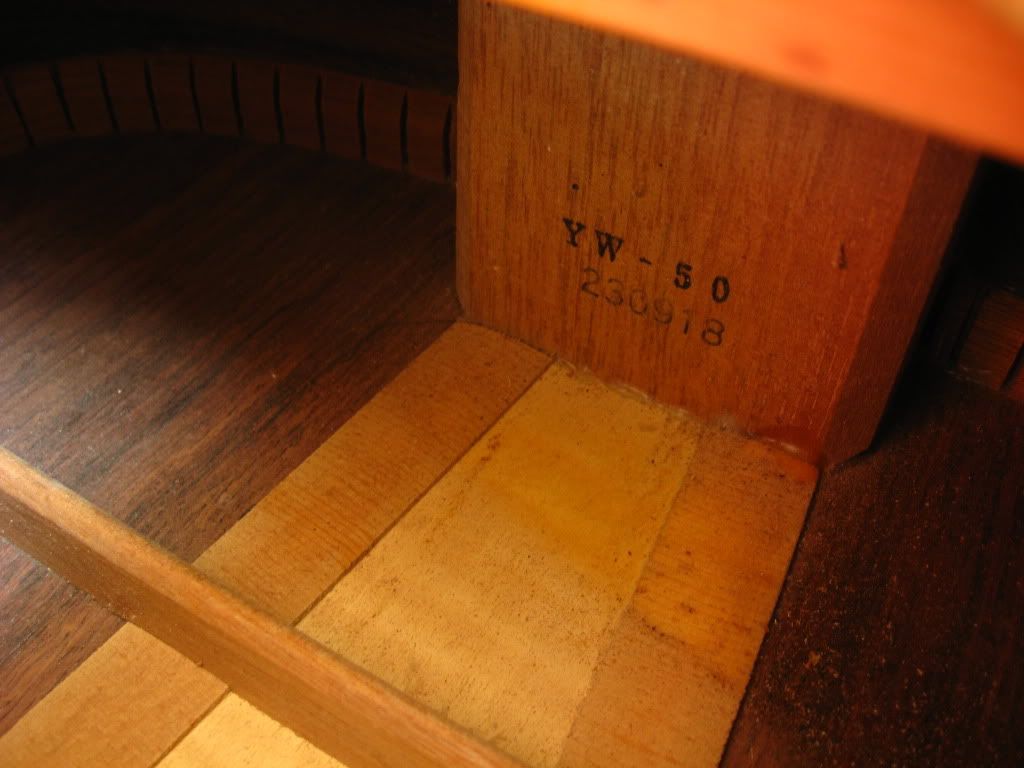 Please find additional photos
here