Bluebell are a new brand to discuss on this blog. Branded very much in the vain of Cowboy and Westerns, with original Japanese adverts showing the Bluebell brand in SALOON style italics, and some plaid shirt luthier hand sculpting the neck of a mandolin, whilst some old moustached fellow in a Stetson strummed some country chords, they aimed to capture squarely the country and bluegrass flatpickers in native Japan. Interestingly with Bluebell, the brand used a large variety of guitar factories to construct their models over the period of the early to late 70s; which factory dependant on the model type and price bracket. Some top end Bluebells were made at the wonderful Tama factory, varying between Martin-based designs to Gallagher-based models (the only brand to have Tama-made guitars in this style i believe), though given the small number of luthiers at the Tama plant, i imagine some of the other top end models were made at a selection of these others; Fuji-Gen, Blue Bell factory, or by Suzuki Violin Co. Ltd. Usefully, each soundhole label indicates the factory of manufacture. They also made a fine line of flat mandolins and banjos.
In this entry, we look at a Bluebell BW400, made at the Suzuki Violin Company guitar plant. The Suzuki Violin company have quite a history all by themselves, which i will save for either a Suzuki or ThreeS branded guitar to regale, but they are one of these brands slightly better known in Western markets, with quite a following of collectors, with a strong reputation for quality instruments. This Bluebell BW400 is a delight, tonally amongst the best in the collection, whilst its materials and construction are excellent.
Featuring a very nicely grained quarter-sawn solid spruce soundboard, with some bearclaw figuring and cross-grain silk (the general belief is that these features are a sign of very mature wood, grown in a natural forest rather than a farmed forest), this is high high quality. Unlike quite a few others, this doesn't have an abalone rosette around the soundhole, but just simple tri-line rings that adds some understatement to this model. The purfling around the edge of the binding is likewise. The sides are Indian rosewood, whilst the back is a 3-piece design, again in Indian rosewood, with the outer flanks bookmatched, each seam with the same simple purfling as seen elsewhere on this model. It is quite suprising to see this modesty, where use of Mexican shell and abalone and wood mosaics are much more common, though i feel it reinstates the simple bluegrass theme this brand was based around. The neck is a quite beautifully figured mahogany 3-piece, in a chunky C profile, with a bound rosewood fretboard with simple mother-of-pearl dot position markers, and an ivory-coloured heel cap. The headstalk is again a simple Martin-style design, with a rosewood veneer and cream binding, and Bluebell in the aforementioned SALOON style script in gold. The tuners as usual at this level, are high quality nickel Gotoh models, all engraved with the Bluebell brand script. Back to the body, and we find the bridge is rosewood, with a bone saddle. I should state that plastic saddles are much more the norm on most of these guitars, and that i always install a new bone one it is place if one hasn't been installed already. Such a simple upgrade you wonder why its not the norm anyway! Internally this is clean, with Martin X-style bracing and cedar kurfling. The soundhole label is in place, stating the model number BW400, the factory of construction as Suzuki, the handwritten model number, with the last two digits indicating that this is made in 1979, and that it has passed their quality control tests of tone and construction. Always so thorough.
As i mentioned at the top of this entry, this is amongst the best sounding of the Martin-designed guitars in the collection. Loud and rich, excellent base response and note sustain, it really is wonderfully suited to flatpicking bluegrass; a convincing idol of a Martin D28.
Here are some photographs to enjoy: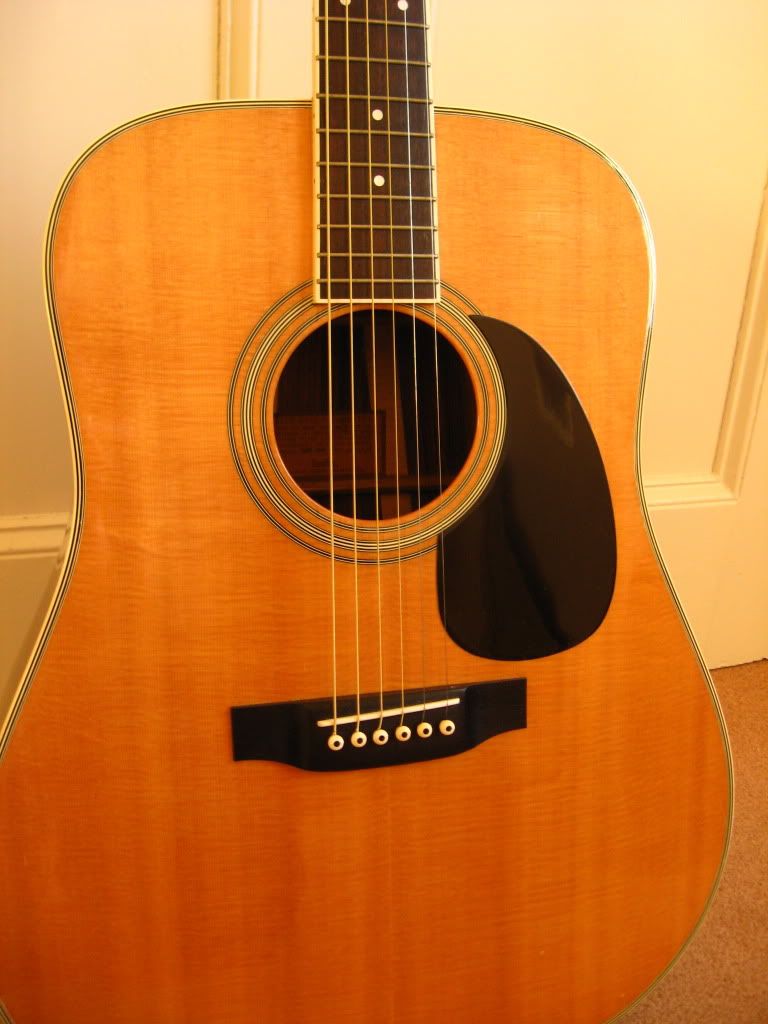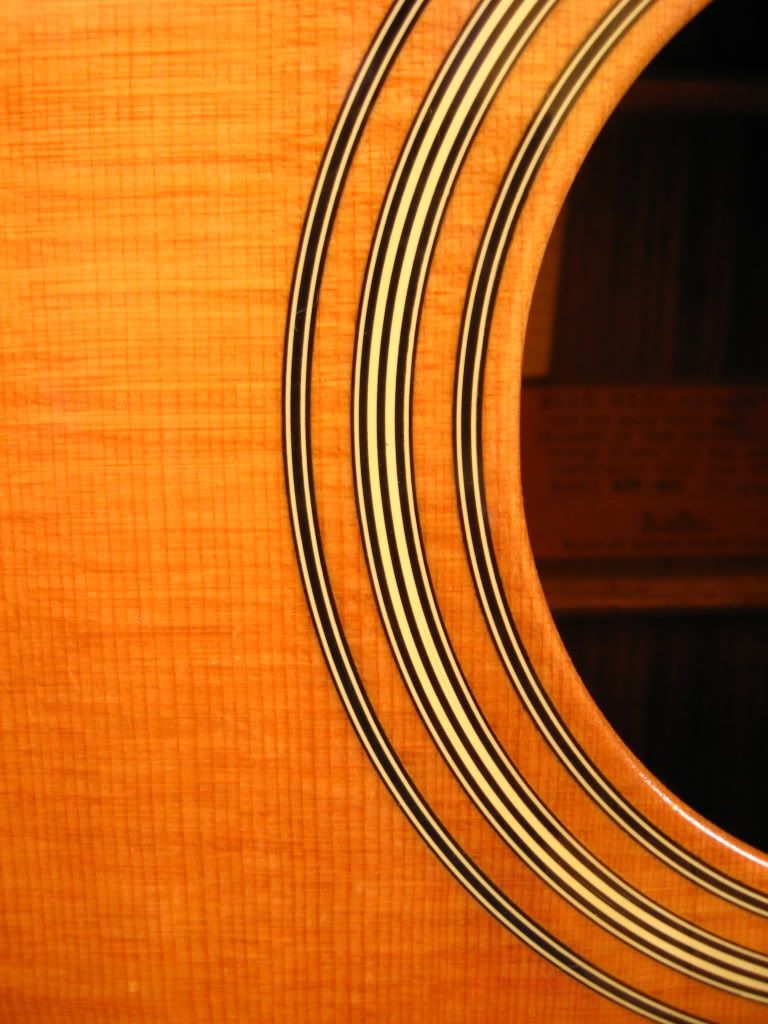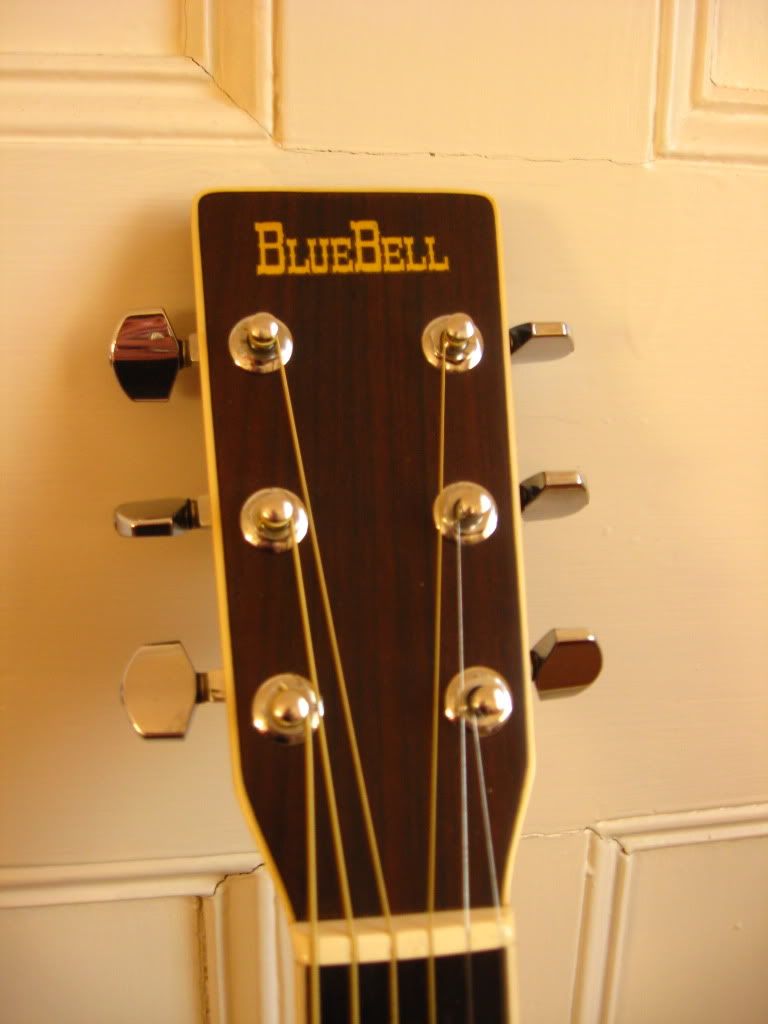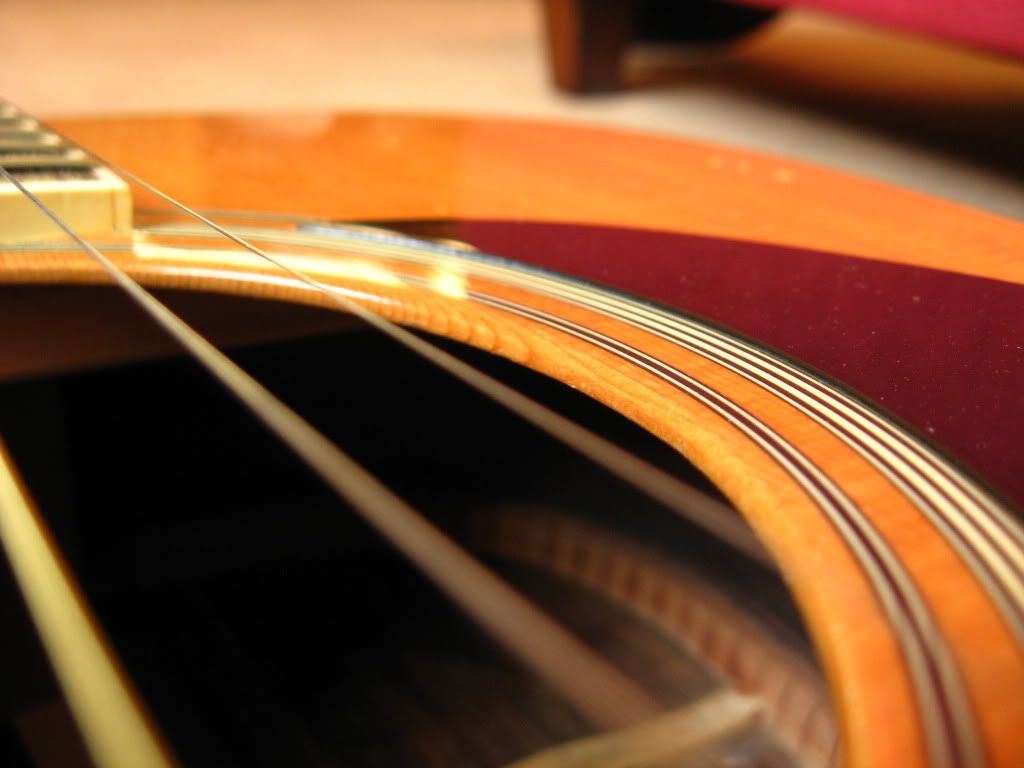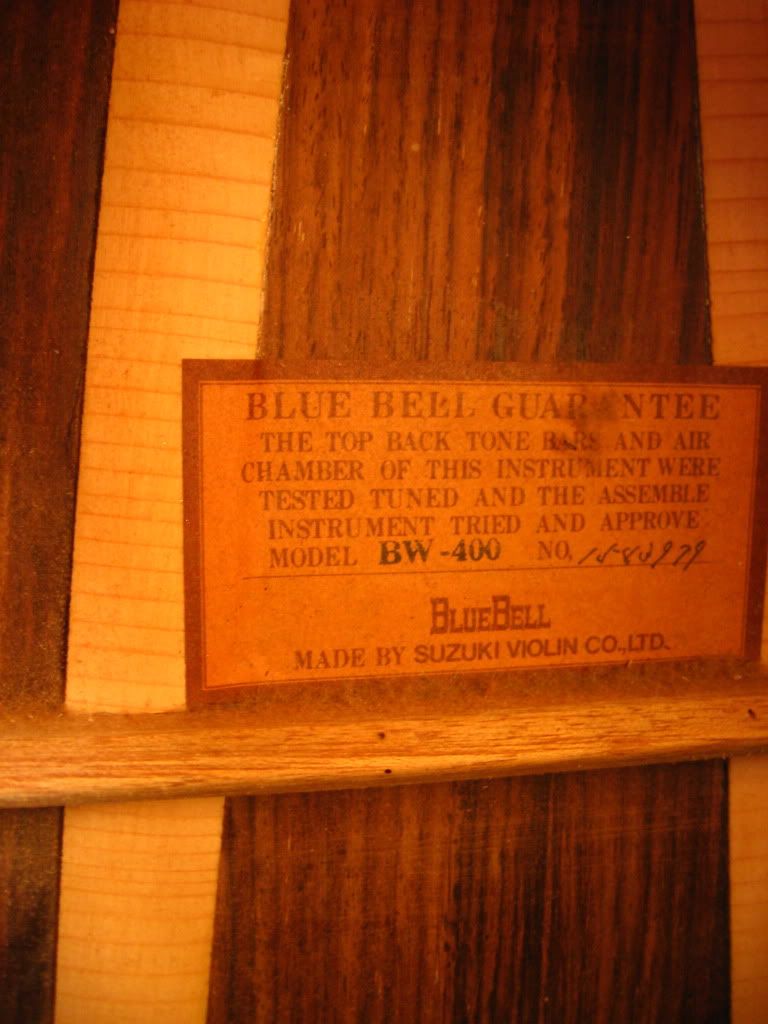 The full album can be viewed
here
.