There can be no mistaking what this is a copy of; the Gibson Dove is legendary. First made in 1962 in Kalamazoo, the Dove was the second Gibson acoustic to feature the flat-shoulder design made famous by the Martin D-series guitars, the first being the equally famous Hummingbird. Though similar in appearance, the original Dove featured a solid Sitka spruce top and light bracing, with solid maple back and sides, the ornate engraved pickguard - probably one of the most famous pickguards ever designed, and the two doves on the bridge. On to that a longer 25.5" scale length fretboard with split parallelogram inlays, gave the Dove a loud, bright and rich sound, and a unique image.
It's little wonder that the Japanese guitar industry of the 70s sought to make their own models of it, with so many famous musicians using them at some point or another, demand was high, and import prices of the Gibson models were far beyond their economy. As with the Martin models, they took the original Dove apart and examined how it was made, and went about re-creating it - Jagard were one brand of many with a Dove model, other better known ones likely being Burny, Greco, Morris, and Yamaki.
Jagard guitars were crafted at the Terada guitar factory, which was one of the largest guitar manufacturers of the time in Japan. Terada built guitars of all ranges and prices, for a number of different brands, and even used a mail-order system to sell guitars through magazines, mainly under the guise of Tomson guitars. Regarding Jagard guitars, i can only guess the name was inspired from the Rolling Stones front man! A lot of people have quite a laugh when i tell them the name of the brand of this guitar, and it is quite a novelty. However, as the model name/number suggests, this is quite a guitar, retailing originally at 85,000 Yen in the mid 70s - a huge sum of money in perspective. This is the most expensive of the original priced guitars in the collection, and you really did get something extra for your money here.
Finished in brilliant sunburst, it looks stunning. The solid spruce top, the maple sides, and a three-piece maple back with intricate wood mosaic inlays between each panel, double bound in ivory white, are all beautiful. Next, the rosewood Gibson-style bridge features mother-of-pearl dove inlays, and the pickguard is tortoise-shell with mother-of-pearl dove and hand etched details. A plus is the bone saddle, a marked improvement over the original tune-o-matic style first released on the Gibson. On to the body is a red-woodstained mahogany neck with a bound rosewood fretboard featuring mother-of-pearl split parallelogram position markers, up to a bone nut and an ivory bound moustache headstalk with
Jagard
in italic mother-of-pearl inlay, and the Gibson style crown and truss rod cover. The tuning pegs are Japanese high-quality Gotoh style which wind smooth and hold tight. Inside it's clean and tight, with a detail woodpatch branded with "Hand Made Jagard Model No. JD85S Made By Terada".
With so many Martin copies in my collection, this model is a rarity. The maple back and sides and the fine spruce top really make this guitar sing loud and crisp, shimmering in harmonic chords. I have Newtone light bronze strings on it just now, and it is amazing the volume out of the lights it produces. A set of mediums will be tried next. I really must get a recording and share it.
Until then, here are some photos to enjoy: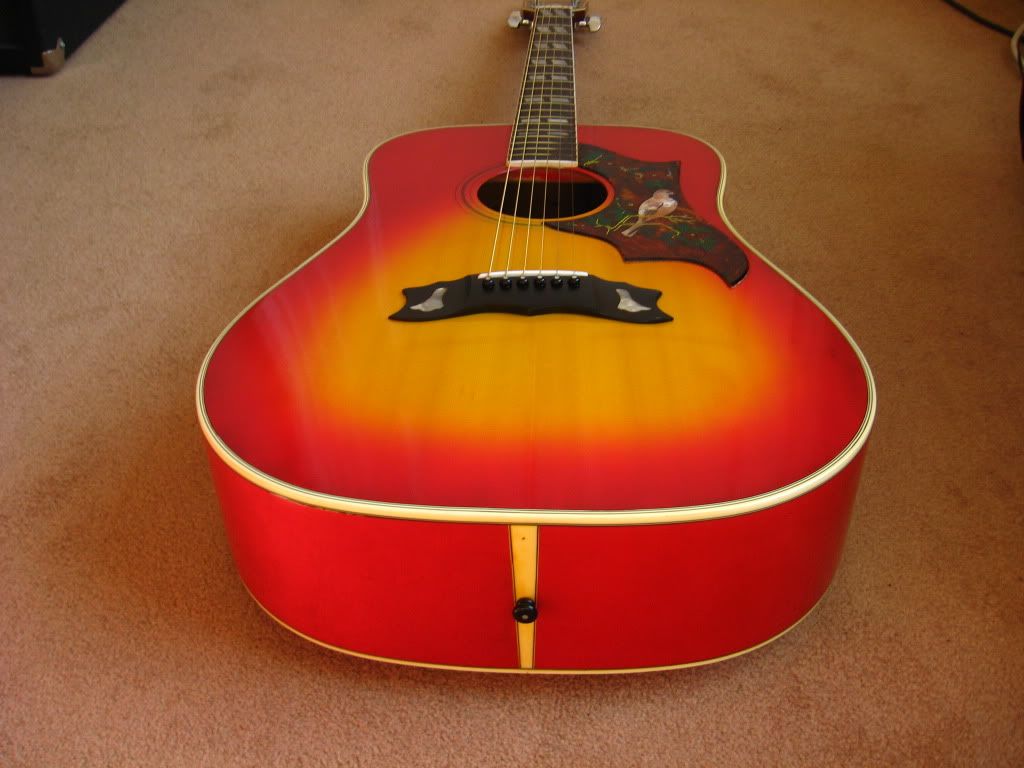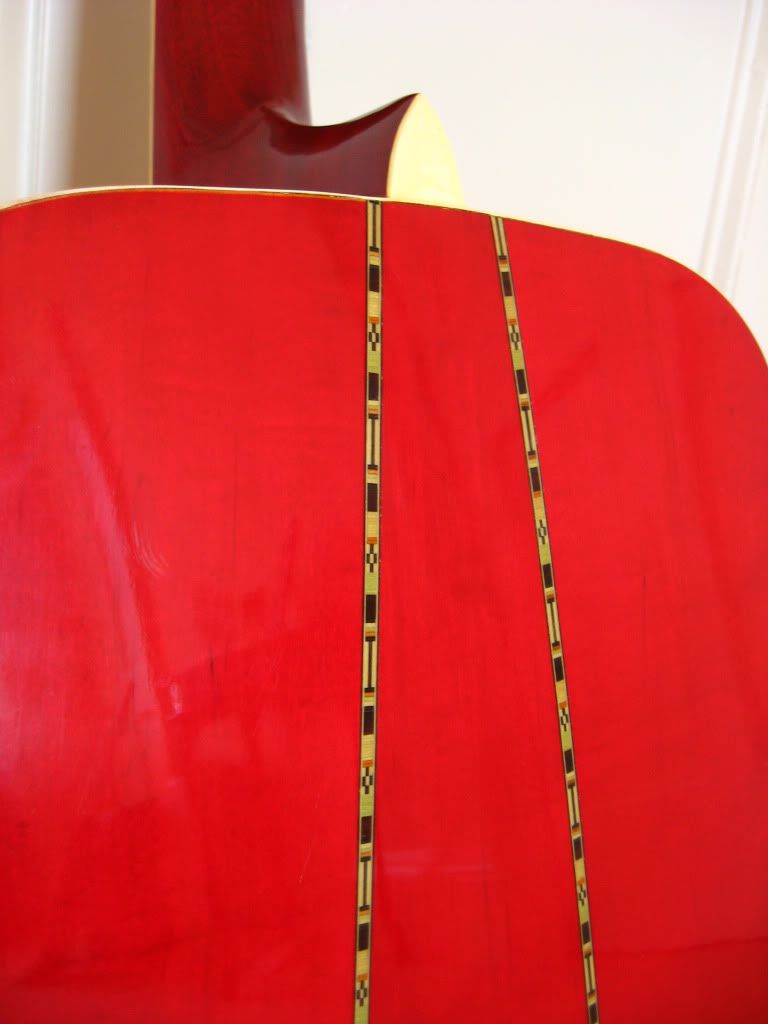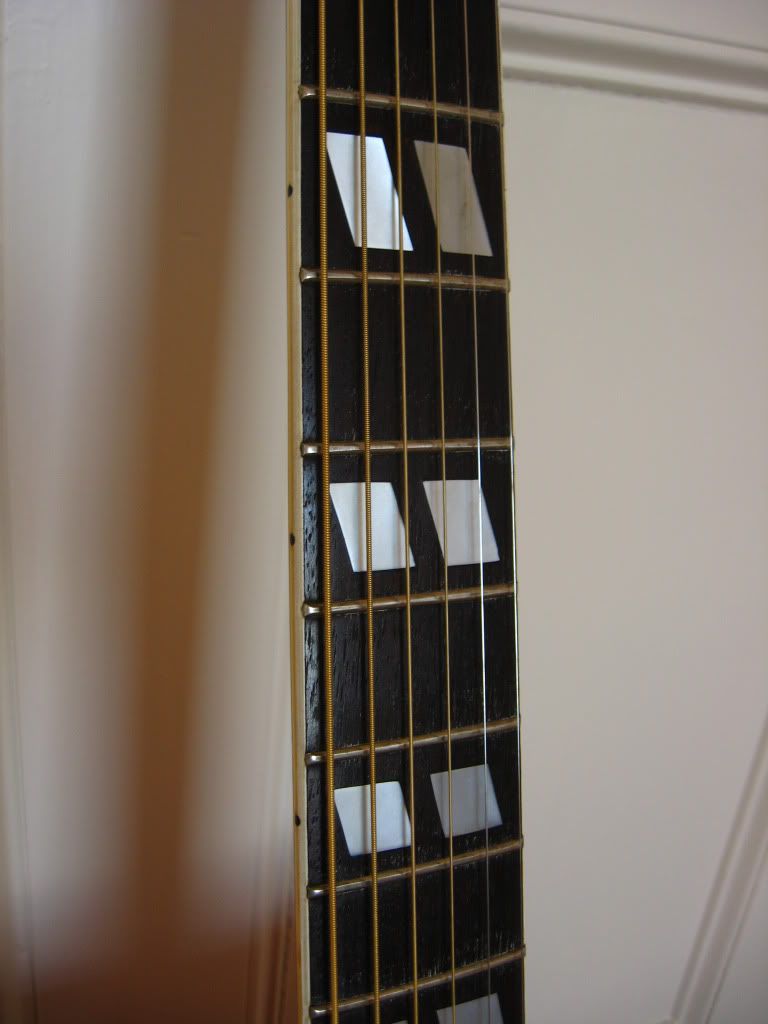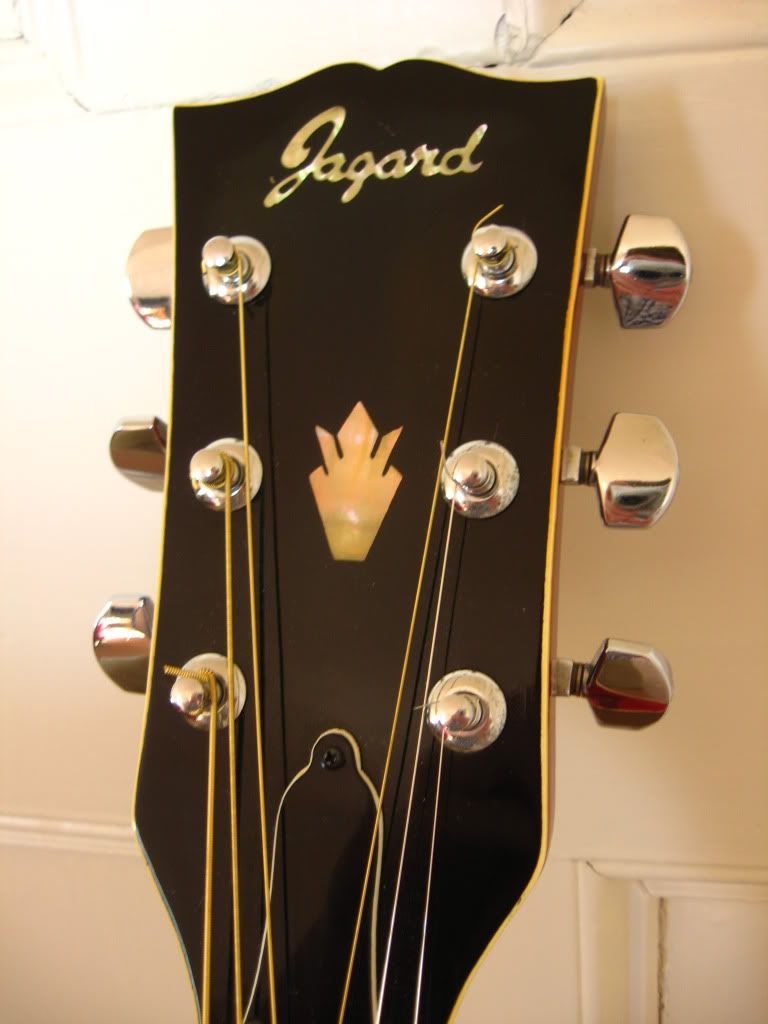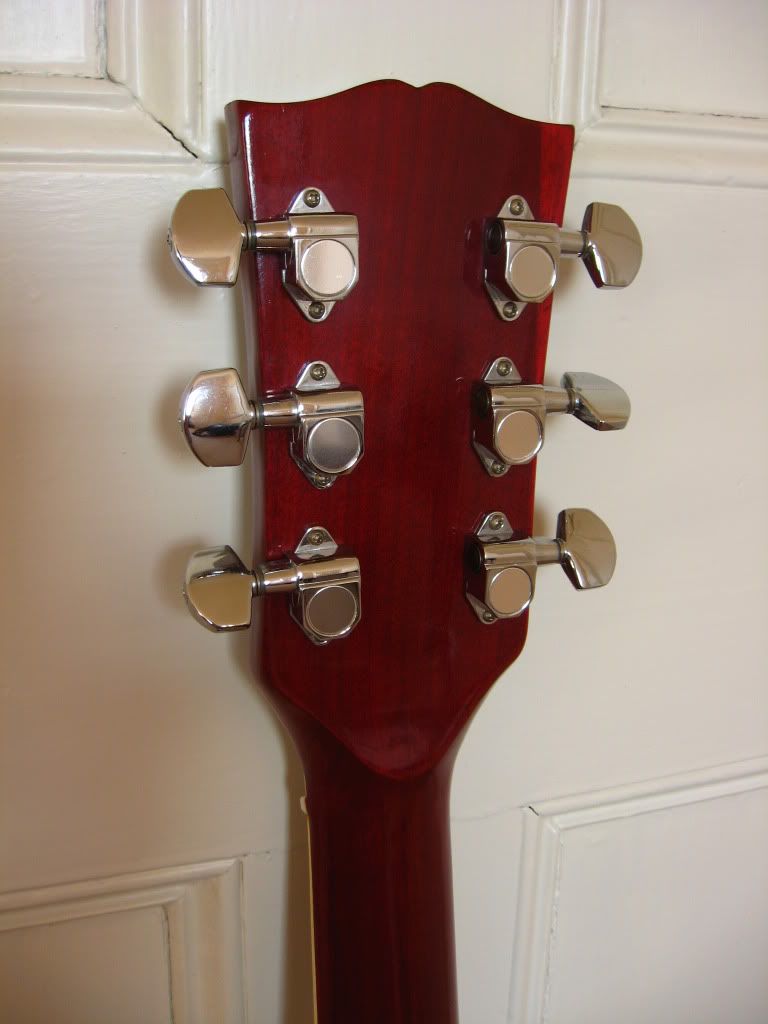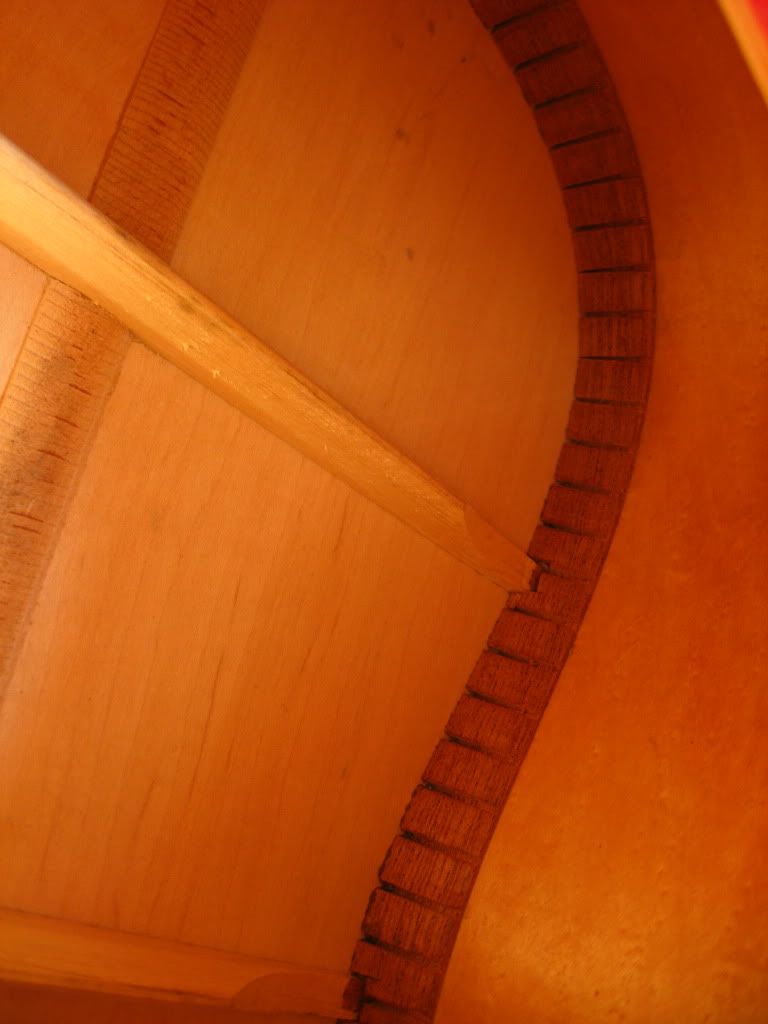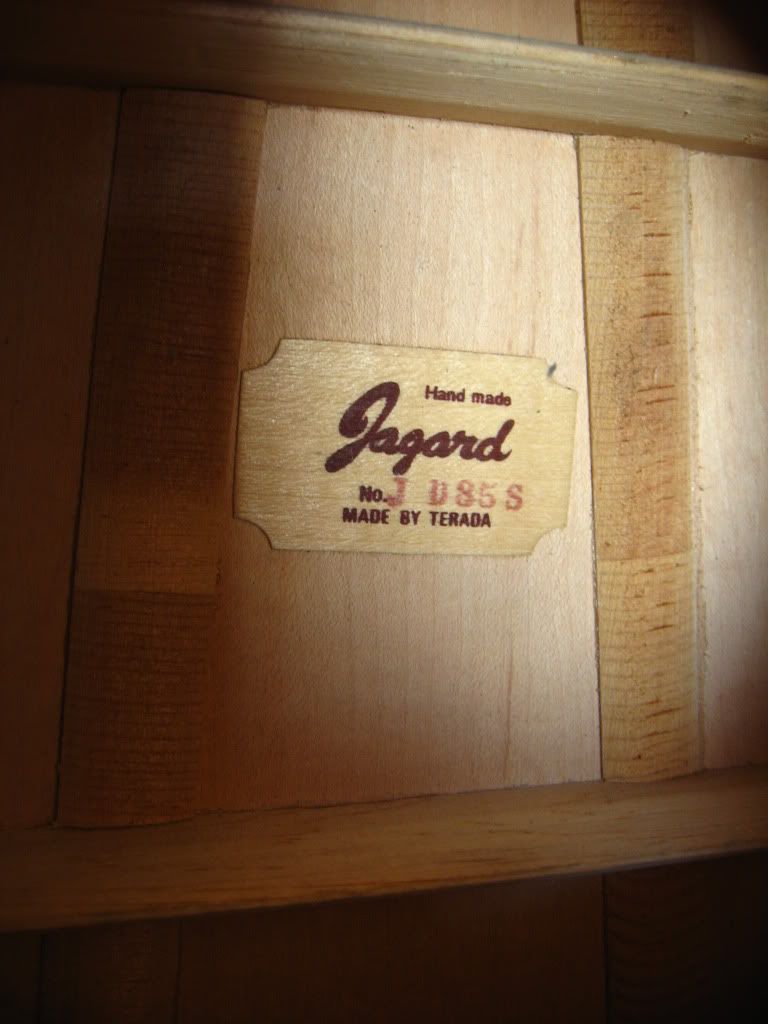 You can find the rest of the photos
here