So my first foray into these vintage Japanese guitars was this Lorenzo #153. Lorenzos from this era (mid 70s) were imports branded under Fletcher, Coppock, and Newman, who were a UK musical instrument supplier (amongst other wholesale ventures) started in 1965. FCN continue to have instruments branded to this day, and have always been primarily aimed at beginner-intermediate quality instruments. As for the Lorenzo brand, it is harder to trace at which point they moved from manufacture in Japan to Korea; most likely the later part of the 70s when the Japanese economy was increasing to a point where it was cheaper to have these entry level models made in neighbouring Korea and Taiwan. I have been told the original Japanese Lorenzos were made at the same plant as Ibanez (and Antoria, another UK import brand that is a good deal more known). Nowadays, Lorenzo are an entirely different maker of guitar, made in China.
The Lorenzo has lived it's life and is now mainly just a showpiece for me. The neck has curved up with the adjustable bridge as lowered as possible, and the action is just too high. This is mainly due to the truss-rod being broken and thus not holding form. I have been tempted to put a new saddle in and try the heritage low-tension strings and have it tuned to open C to see if this makes it more playable, but that is a project down the line. As my first foray it was a good find.
The body is in really good shape, with very few knocks or scratches. The soundboard is aged spruce, and is ply to the best of my judgement. It is very difficult to tell in some cases, due to the finish on the ply wood being so good. There are some arguments that some of these ply soundboards sound truely fantastic, and this was no bad sounding guitar by any means. The bridge is rosewood, with an adjustable bridge mounted in it. The sides are ply brazilian rosewood, as is the outer panels of the 3-peice back. Back in this era, brazilian rosewood was not as rare as it has become, so features as a ply finish on quite a few models. The inner panel is of curly maple, which does look fantastic. Interally, the wood is uniformly rosewood - if the outer finish and inner body wood finish don't match up, it is usually a sign of a slightly lower model. It is very tidily braced and finished, with the bracing modeled on the 70's era Martins with the non-scalloped braces. The neck is a nicely grained mahagony, and it has in-house diecast tuners, which work very well. The previous owner upgraded to a bone nut.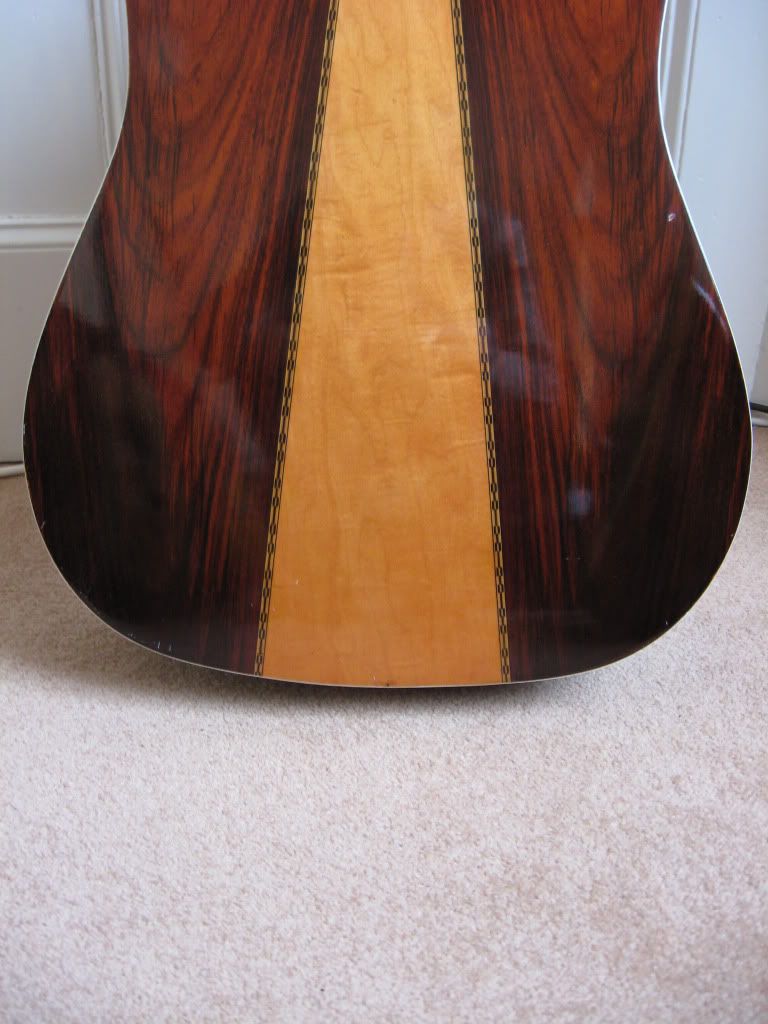 full set of images:
here