This guitar purchase was largely spurned on from the Lorenzo, which had kick-started my research on these old UK imported guitars from Japan. As mentioned in the previous post, i had learned that Antoria was the better known alternative branding of 1970s Ibanez-made acoustics. These were imported and rebranded for JT Coppock Leeds Ltd, who had been rebranding guitars as Antoria since the 1950s, both electrics and acoustics. Ibanez itself has a colourful history stretching back to its beginnings in 1908, when the Hoshino Gakki company began importing Salvador Ibáñez guitars from Spain to Japan. This continued until the destruction of the workshop during the Spanish Civil war, the aftermath of which saw Hoshino Gakki purchase the branding rights of Salvador Ibáñez and begin making their own guitars under this guise in 1936. Over time this became shorted to Ibanez, which has been in place since the 1960s.
These Ibanez-made Antoria acoustics were made at the FujiGen Gakki factory in Japan, which has grown to have a weighty reputation for quality, and not without reason; the fan base for guitars of many different ilks manufactured there is wide and growing. Ibanez guitars of this period are particularly well known as being modeled on famous American guitars by Fender, Gibson, Guild and Gretsch, growing to such accuracy that the lawsuit period ensued. This model i have is the F212, which is a lovely copy of the Epiphone Frontier flattop first introduced in 1958. This was an unusual model from Epiphone under Gibson control, as it was the first flattop acoustic from them to have the flat-shoulder design, which was a feature generally associated more to Martin guitars. In some ways this makes this guitar of mine quite quirky, as it has a shorter and thinner body, and shorter neck than a standard dreadnought, but larger than your normal folk or O-shaped body.
The guitar itself has a solid spruce top finished in a very tasteful vintage sunburst finish with ivory purfling, walnut back and sides, a nice short V-shaped neck with pearloid box position markers and that distinct mustachio headstock. The gold kluxon style tulip tuners are an upgrade to fall even more inline with that Frontier look, and do the job well. The saddle is a light rosewood, and sets the adjustable bridge - a terrible invention really, that was pretty popular back in the day, so in authenticity to the original, features here. In a folk guitar like this, i would be in no rush to go to the expense and hassle of changing it to a fixed bridge; the tone is crisp, quite dry and woody, more cold than warm, with good sustain, which i find quite perfect for folk country songs. One look at the guitar and you'd say it sounds exactly what it looks like it should. And it does look good.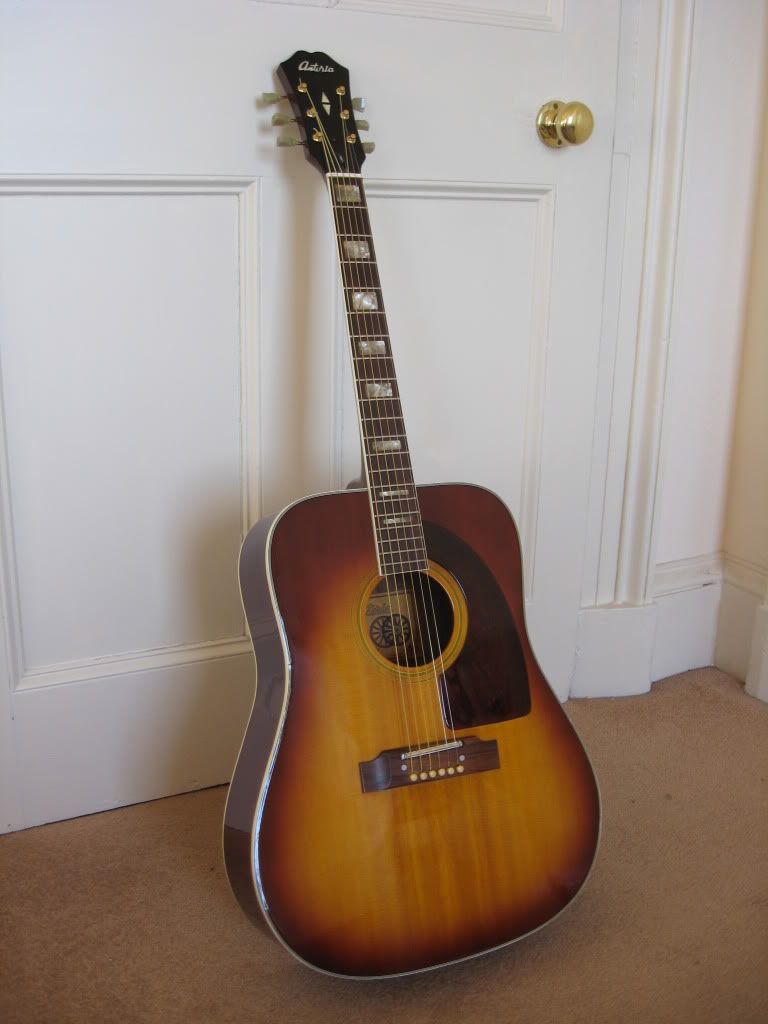 Full set of images:
here
I haven't come across too many acoustic Antorias, which tends to make me think people keep ahold of them. One even gets the glory of featuring in the Oasis "Wonderwall" video, a J200 model. A small bit of fame.