A short hiatus between posts there. I am glad to see this proving a useful resource though. I still have a backlog of guitars still to make entries on, so it is only going to grow and grow. This entry looks at another of the the Pearl models i have; the TF-145.
Another Pearl model built by Hayashi Gakki in the early 1970's, this originally sold for 45,000 Yen in native Japan. This is quite a unique model due to its rounded shoulder design - this was a body shape that very rarely features in vintage Japanese models; neither a regular dreadnought nor a jumbo. It is voiced somewhere between those two. Again by this price range we have a well-grained solid spruce top, select Indian rosewood sides, and a three-piece back of Indian rosewood flanking a central panel of Andes Rosewood. The pickguard is one of these that never had the protective peal taken off of it, so has turned almost a leathery sort of texture. Some days i like the look of it, others i think i will take it off and put a new black one in its place. The ivory body binding on top and back has aged a vintage yellow, which matches the cream mosaic inlays between the seams on the back and the ivory heel cap nicely. On to the body is a ivory bound 3-piece mahogany neck with a rosewood fingerboard. Very small mother-of-pearl dot inlays are used as position markers. The headstalk features Pearls' distinct headshape faced in rosewood with the Pearl logo in mother-of-pearl, whilst the tuners are quality old Gotoh units, that work excellently. Internally, the kerfling and joints are all tidy and clean, with the normal branding of "Pearl Guitar, Folk, Made By Hayashi" found stamped inside. Overall this has really aged well, with the top wonderfully ambered and played in, and the frets with plenty of wear in them yet. I need to put a new bone saddle in, as the current one gives very little break on the strings. I think with that in place this will sound even better.
As ever, here are some photos to enjoy: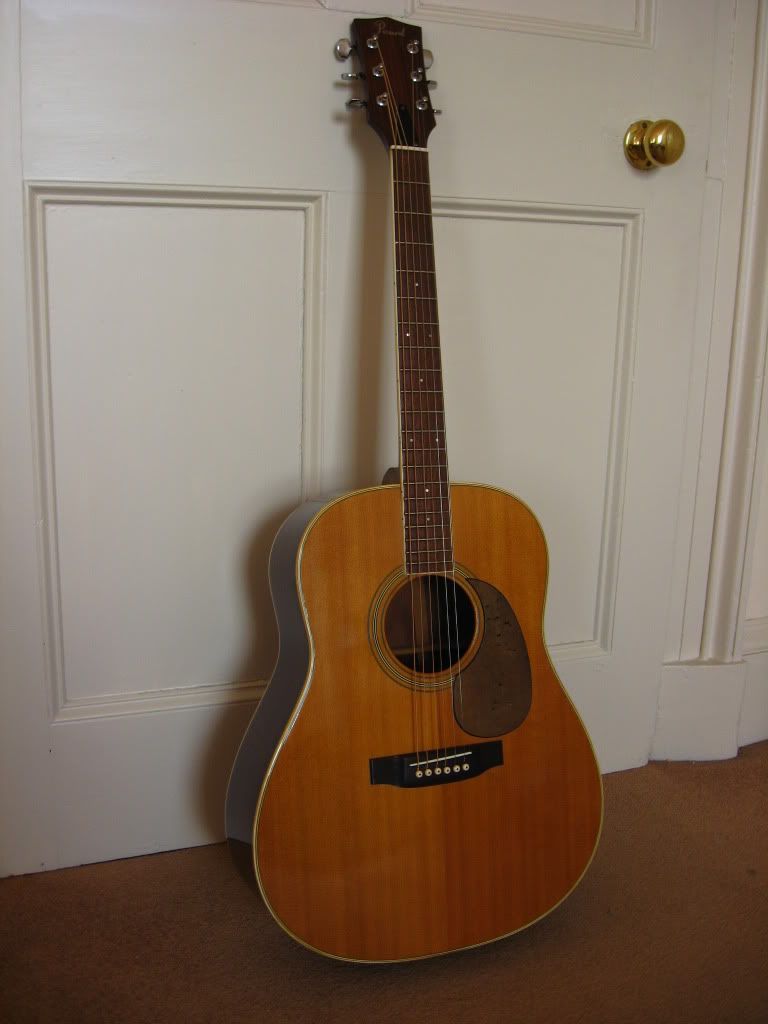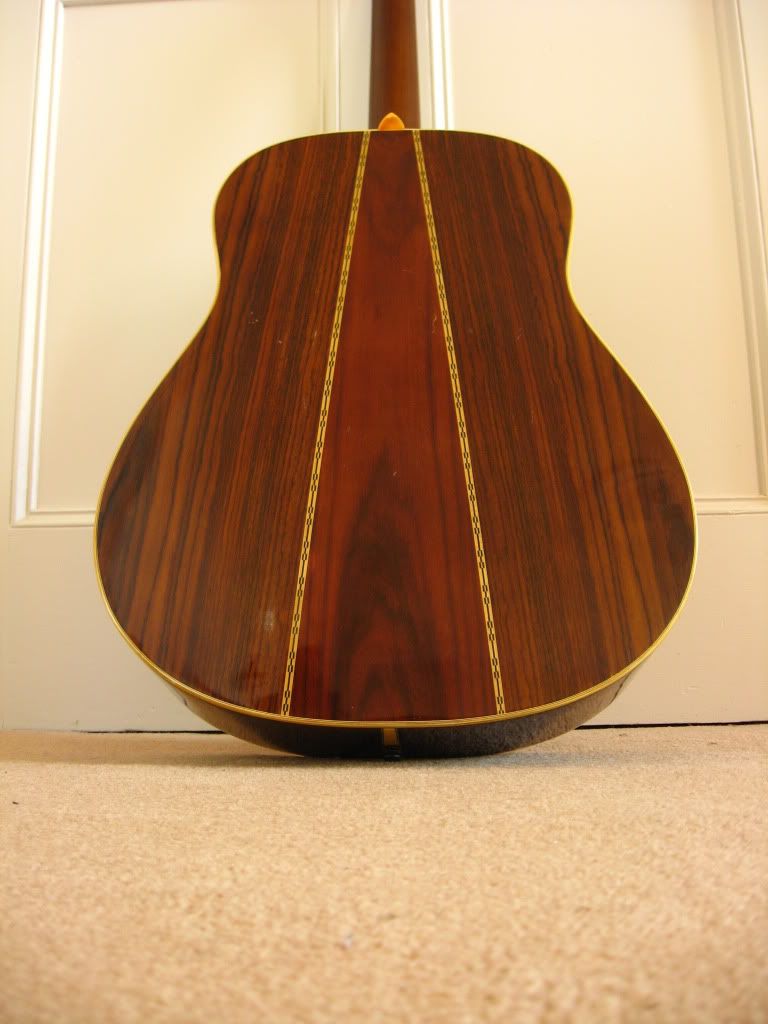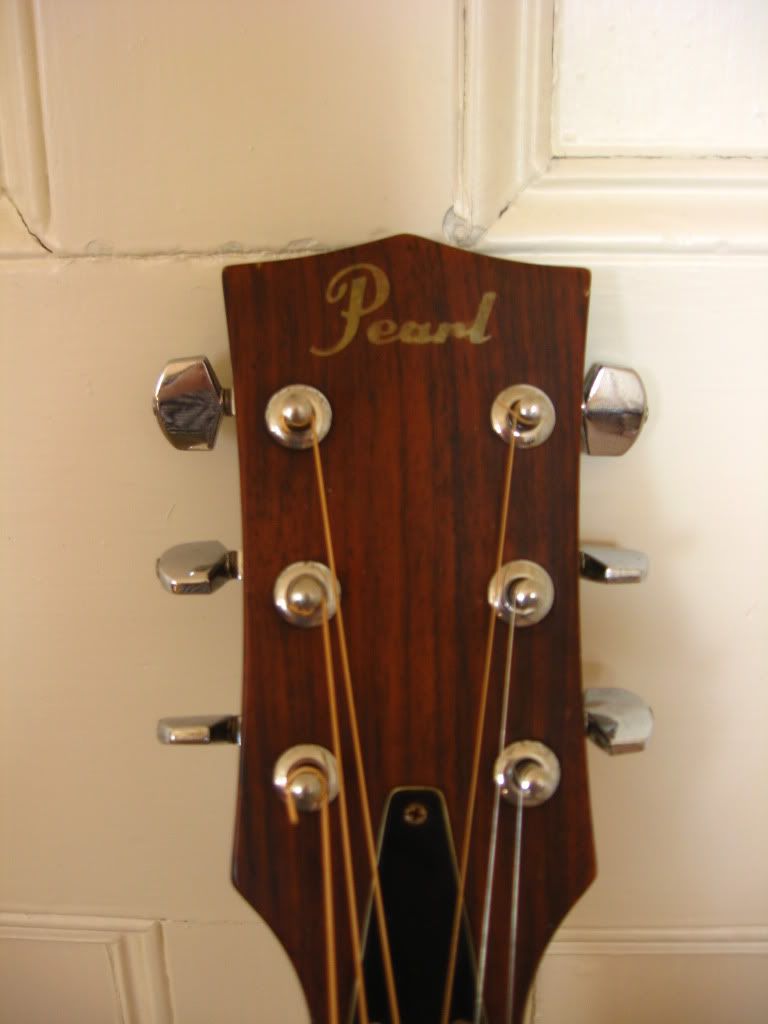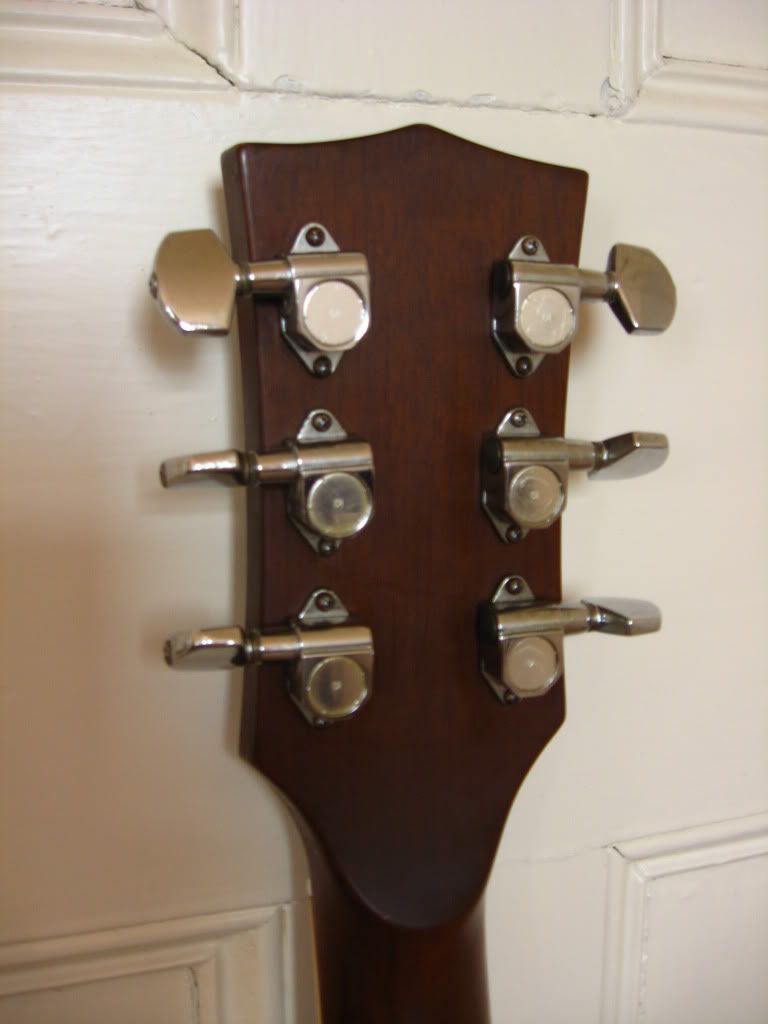 You can find the rest of the photos
here
.